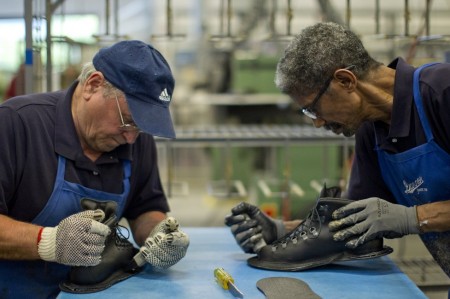 "Made in the USA".  These days, it seems like this phrase is hard to come by.  So many of the products we use in our daily lives are made in part, or in their entirety, overseas.  For this reason, Danner Footwear's boot factory is a sight for sore eyes.  Located just outside of Portland, Ore., the Danner boot factory is one of the few operating footwear factories in business in the United States today.
Danner (acquired by LaCrosse Footwear Inc. in 1994) runs a complete assembly line to produce their high-quality leather boots which include work boots, hiking boots and military boots (one of their customers is the U.S. military).  Inside the factory, skilled craftsmen pay attention to even the slightest detail.  Even the leather itself comes from hides that are sourced and tanned in the United States.
The factory also houses a prototype unit where designers can bring their design ideas to life.  Having this prototype unit in house allows Danner to bring new designs to market much more quickly.  In addition to the prototype unit, the factory also contains Danner's rebuild workshop where any U.S. built Danner boots can be sent for repairs or even full rebuilds.  The craftspeople at Danner can replace anything but the leather, making old Danner boots look and feel like new.
If you buy Danner work boots hiking boots or military boots, you're certain to get what you pay for.  The artistry and care that goes into producing each and every boot is a rare find in a world focused on mass-consumerism.  Be sure to check Working Person's Store for your own pair of American-made Danner or LaCrosse work boots.