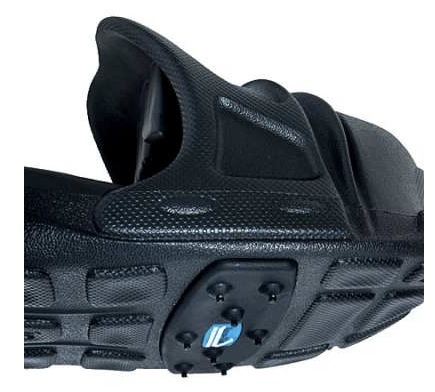 For assuredness of step, just slide on Ice-T's by Shoe In and grip into winter's elements of snow, slush, and ice with confidence.  Be safe, too, because stepping outside can be hazardous in the winter!  Just walking to the truck, or taking out the trash, or other simple home-based chores could be treacherous with any combination of winter's precipitation, especially when the aspect of ice is factored into the mix.  And least not any other work outside where cautionary stepping can cost focus on other tasks. These new snow traction devices are ideal for any wintery sure-footed needs.
When without the heavy winter boots —  Ice-T's creative design is ideal.  Shoe In made a product for your winter safety that provides the ease and effortlessness of sliding (only because you decide to, pun intended) on or off a pair of clogs.
Yup, it's really that easy to put on Shoe In Ice-T (for Ice Traction system) overshoes and solve all the deterring reasons to avoid a seriously snow-filled outing.  The barium metal studs on the soles of Ice-T's s now cleats grip to protect your steps with superior traction in nature's harshest icy conditions.  And Shoe In Ice-T's are just as simple to get to your house by ordering on-line at WorkingPerson.com; so you can get outdoors as soon as possible feeling less concern with the dangers of being outdoors as with the things you need to do, or just to enjoy winter's beauty fully!
Shoe In has thought of all the other details, too.  Your work shoes or safety toe boots fit snuggly into these Ice-T slides (okay, can't resist another pun) for a secure hold and footing that greatly reduces your chances of unintentional slipping as you walk.  Any outdoor lover, senior citizen, dog owner or other working person with a necessity outside in the most inclement northern season can rely on these light-weight, heavy-duty, safe overshoes.  The Ice-T by Shoe In is a perfectly secure companion to add to your winter gear list.  Take them in the car, so they are there at your next snow-and-other-wintery precipitation covered destination!
To view all snow traction devices and rubber overshoes offered on WorkingPerson.com follow the provided links. Shoe In is an affiliate of Weinbrenner who also manufactures high quality brands such as Thorogood and Work One.