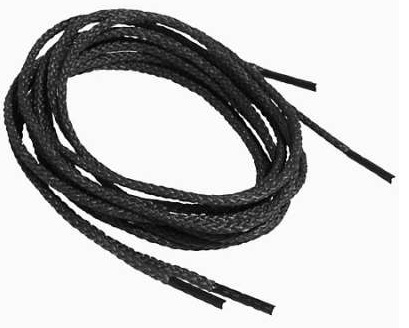 A working person is only as strong as the tools and equipment he or she relies on. And while your hammer is probably not going to quit on you anytime soon, something as simple (and brittle) as a broken lace can really put a damper on your workday. Luckily, there's LaceTech, with a solution to that problem so strong that you'll never have to buy another pair of laces again. Guaranteed.
These laces are perfect for welders, mine workers, construction workers, members of the military, firefighters, and more. Hikers are also particularly partial to them. Basically, for anyone where broken laces are not only an inconvenience, they're not an option. Formerly known as ArmorLaces, LaceTech's laces are now going by a bigger, badder name: IronLaces. The only lace tough enough to do the tough work you do.
Here's something you ought to know about laces. In lab testing, 10,000 cycles without breaking is considered passing the test. Well, in recent lab tests, IronLaces by LaceTech performed up to 1.4 million cycles without breaking.
IronLaces have a 630-degree melting point, and over 1,000 pounds breaking strength. Yes, that's HALF A TON! You could literally lift your car by your laces. That is, if you're wearing LaceTech.
Outside testing has proven time and time again that IronLaces by LaceTech have a much higher breaking strength than anything else on the market today. Quite simply, what that means is that you won't find a stronger, more durable lace for sale. Anywhere. Plus, they come in both brown and black. So, you can get a pair of IronLaces for every pair of work footwear you own!
LaceTech laces are one of a kind. They're manufactured from 100% man-made synthetic fibers. IronLace is the only lace in the world that offers its wearers water, abrasion, chemical, and UV ray resistance. The color will fade after repeated use. But the toughness and strength will not. Guaranteed. Yes, LaceTech offers a manufacturer's lifetime guarantee. If you give us a broken IronLace, we'll give you a new one free.
LaceTech Industries is a British Columbia-based company, owned and operated in North America only. It specializes in one thing and one thing only: making awesome high-performance laces. The company has had so much success in Canada that it is expanding its business into the United States. It won't be long before this is the leading lace product in all of North America. With performance results like this, how could it not be? Get your own pair today at WorkingPerson.com, and don't let a broken lace ever slow down your day again.