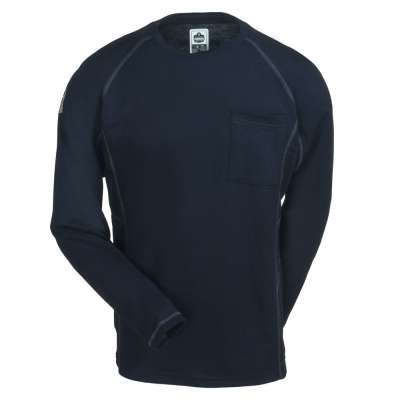 It all started when companies like Under Armour began churning out ultra comfortable moisture-wicking workout clothing that actually looked cool. Not only that, but moisture-wicking offers exactly what you want in terms of temperature control – when it's hot, your sweat and body heat are pulled away to keep you cooler; and when it's cold, staying dry is always warmer than wet. Plus, who wants to walk around soaked in their own perspiration all day long? It's healthier for your skin and a heck of a lot more comfortable, too.
Soon, people began wearing these shirts (and pants) to tailgates, the beach, and other fun-filled hangouts. The trend caught on, and the technology was soon woven into all kinds of shirt styles – from polos to sweatshirts. Dubbed the "athleisure" trend that blends athletic wear and leisure activities, there's something to fit every style – fun, casual, business casual, trendy, professional, subtle for the golf course, office, coaching, or just the neighbor's barbecue.
With the "athleisure" trend in full swing, no clothing category is being left out – including the elite flame-resistant class of apparel. WorkingPerson.com currently has over 80+ selections of moisture-wicking FR apparel, and here are some of our favorites:
With these and several women's and unisex options in the FR line up, you'll find exactly what you're looking for in athletic and work attire. 
The bottom line is this: don't settle for uncomfortable and outdated looks just because you require flame-resistant workwear. Comfort and style await you at Working Person's Store, even for people needing FR gear. You can look and feel great while you're working or meeting up with friends afterward in your performance FR clothing…with all of the hip trendiness of your favorite athleisure clothing, which now has the ability to protect you while you're on the job. Trust us – it's hip, and it's available now at WorkingPerson.com.