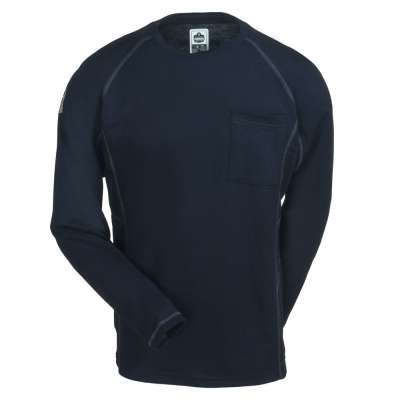 It all started when companies like Under Armour began churning out ultra comfortable moisture-wicking workout clothing that actually looked cool. Not only that, but moisture-wicking offers exactly what you want in terms of temperature control – when it's hot, your sweat and body heat are pulled away to keep you cooler; and when it's cold, staying dry is always warmer than wet. Plus, who wants to walk around soaked in their own perspiration all day long? It's healthier for your skin and a heck of a lot more comfortable, too.
Soon, people began wearing these shirts (and pants) to tailgates, the beach, and other fun-filled hangouts. The trend caught on, and the technology was soon woven into all kinds of shirt styles – from polos to sweatshirts. Dubbed the "athleisure" trend that blends athletic wear and leisure activities, there's something to fit every style – fun, casual, business casual, trendy, professional, subtle for the golf course, office, coaching, or just the neighbor's barbecue.
With the "athleisure" trend in full swing, no clothing category is being left out – including the elite flame-resistant class of apparel. WorkingPerson.com currently has over 80+ selections of moisture-wicking FR apparel, and here are some of our favorites:
The Ergodyne Men's 7425 NVY Navy Blue Flame-Resistant Long-Sleeve Shirt

: We love this fitted Henley style shirt because of its versatility. Let's face it: FR clothing is an investment. You need something that will fit just as well the 50

th

time you've worn it as it does the first time, and we add bonus points for work clothing with more than one purpose. The handsome Henley style sleeves are also known as "baseball style" because the seams extend from the neckline to the underarms, leaving no seam on the top of the shoulders. This offers a more athletic fit with less binding and more mobility built right into the design. Plus, it looks and feels really good. This fitted FR shirt also doubles as a base layer in cold weather. And since it meets or exceeds ASTM and NFPA standards, you're sporting a layer of safety, no matter how you wear it.

The CAT Apparel Men's 181005 061 Graphite Grey Flame-Resistant Long Johns

: When you work, you sweat. Everywhere. Don't get so distracted by your upper half to forget that your lower half deserves moisture-wicking athleisure, too. These FR long johns are a great way to keep you comfortable all day in cold weather. As an added layer of warmth, long underwear needs to be moisture-wicking if you want it to work properly. Imagine trying to work in the cold with a damp towel tucked into the legs, thighs, and seat of your jeans…that's what non-wicking workwear will do to you as you start to sweat. Yuck. You work hard, so you deserve the comfort and safety of performance FR clothing. Everywhere.

The Carhartt Men's Cotton Blend Flame-Resistant Hooded Sweatshirt

: Everyone loves a durable Carhartt work sweatshirt…there's just nothing quite like it on a cold day. Carhartt makes sure to share the love with the fire-resistant crowd as well. This performance sweatshirt works as hard as you do, maintains its shape and strength through the life of the men's sweatshirt (a very long life, we might add), and it will meet or exceed FR workplace requirements for a safe, confident work day.

The Bulwark Men's SMP2 GY Grey FR Classic Long-Sleeve Polo Shirt

: For the business casual jobs, this confident-looking polo has a professional side and performance feel. While collared shirts are not exactly first on your list for leisure attire, the soft performance Swiss Pique fabric is everything you need to be fire-resistant, and the moisture-wicking qualities will keep you dry while you work.
With these and several women's and unisex options in the FR line up, you'll find exactly what you're looking for in athletic and work attire. 
The bottom line is this: don't settle for uncomfortable and outdated looks just because you require flame-resistant workwear. Comfort and style await you at Working Person's Store, even for people needing FR gear. You can look and feel great while you're working or meeting up with friends afterward in your performance FR clothing…with all of the hip trendiness of your favorite athleisure clothing, which now has the ability to protect you while you're on the job. Trust us – it's hip, and it's available now at WorkingPerson.com.