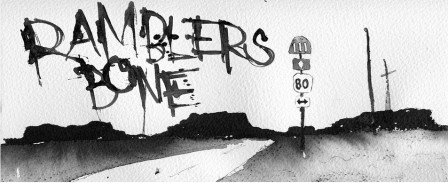 If you've ever been interested in exploration or are an avid fan of travel, you will appreciate what American photographers Mikael Kennedy and Sean Sullivan are doing. On April 5th, they embarked on the adventure of a lifetime, with a goal to travel 5,600 miles on a 30-day road trip throughout the southwest. They have named this project Ramblers Bone and plan to share the details through pictures and limited words via Twitter at www.twitter.com/ramblersbone.
Because Kennedy and Sullivan will be traversing rocky and challenging terrain, Wolverine, an American boot maker since 1883, is sponsoring them. With hundreds of styles, Wolverine boots will fit the needs of anyone. Since Kennedy and Sullivan will confront dirt roads and rocky formations at the least on their escapade, so why not do it in comfort, style, and durability? Wolverine boots have stood the test of time, so with these boots, these travelers can depend on Wolverine's quality in any situation they may face as they venture through the rugged wilderness.
With an epic adventure waiting, the two photographers need to be sent off in a similarly epic style. The Stronghold in Venice, CA seems the perfect place since it too has been around since the late 1800s and offers an array of durable jeans that are stylish too. There will be a sendoff party from 6-9 P.M. at their location on 1625 Abbot Kinney Boulevard. From there, Kennedy and Sullivan are on their own.
So maybe you can't pack up and leave like these two, but you can at least pretend. With Wolverine boots, you know you will be prepared for any adventure in your own workplace or life. And remember, you can live vicariously through the pictures they post online. As Ralph Waldo Emerson put it, "Life is a journey, not a destination."
Check out Wolverine boots and various other work footwear brought to you by Workingperson.com.