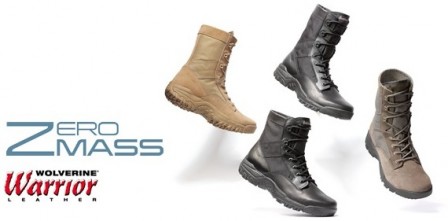 You're running through a field, trying to complete the training exercise to the best of your ability. But you can't. Because it feels like you've got cinder blocks tied to your feet. They're not cinder blocks. They're tactical/training boots. But tell that to your instructor. If only someone could make a decent tactical/training boot that wasn't weighing you down. Well… now that you mention it…
Your tactical/training boots are supposed to help you do your job, not hinder you. The number one drawback of wearing boots? You guessed it – the weight. When you need to be at your best, heavy, clunky boots are the last thing you want on your feet. Introducing Bates Zero Mass Boots, one of the lightest tactical/training boots available. They were designed by utilizing dealer and user feedback, which means they were made in response to specific needs that people who wear these boots every day asked for.
So how does Bates make them so lightweight? The answer: It starts with a reduction in the outsole rubber. Less outsole rubber means a lighter boot, but without sacrificing cushioning and comfort. This is accomplished by using inserts that are made out of lightweight polyurethane, which provide cushioning and shock absorption without adding weight, and these inserts won't deteriorate no matter how long are how hard the Zero Mass boots are worn.
The other big factor in making them lightweight? The new line of Bates Zero Mass boots feature the introduction of compression-molded EVA in the midsole. We'll explain: Midsoles are made out of two different types of foam: EVA or PU. PU stands for Polyurethane, which is heavier and denser than EVA, which stands for ethylene and vinyl acetate. PU also has less "bounce" than EVA. This is why EVA is preferred in running shoes. It is light, flexible, and is a great cushioning material. Compression molded EVA (which these Bates Zero Mass boots utilize) is considered EVA on steroids because it lasts even longer than standard EVA without adding any weight. The same principles apply to Zero Mass tactical/training boots. They function closer to a running shoe, and are lighter than their competitors, for this very reason. In fact, even the lacing system was revamped in order to minimize weight.
Breathability was also very important when these boots were designed. This is why nylon was used in the critical areas of the boot in order to increase breathability. These Bates Zero Mass boots also feature antimicrobial-treated insoles with anti-odor, moisture-wicking properties that keep feet dry.
They're available Spring 2012 in four different styles and three different colors – black, sage green and desert sand. Workingperson.com will carry all four styles which feature a 6-inch black boot (5162), 8-inch black boot (5161), 8-inch desert boot (5118) and lastly an 8-inch sage boot (5128). Don't let your tactical/training boots hold you back any longer. Keep your eye out for Bates Zero mass boots which will be avaiable soon, brought to you by working Person's Store!