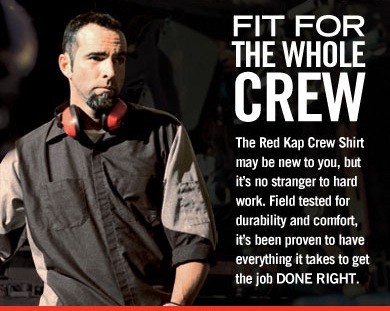 Let's be honest. Having the right shirt to wear is far less important to an auto mechanic than having the right tools. So we're not going to tell you any different. But why wear something you hate, when you could wear something you love? Especially when it's something that can help you do your job better? Lately, Red Kap has been on a mission, visiting more and more auto shops and car enthusiasts to develop products that are right for the people that use them.
Red Kap's workwear designers visited 30 automotive shops and dealers. They talked to everyone – from small two-man garages to large dealers. They watched, they observed, they asked questions, and most importantly, they listened. They gathered feedback, and that feedback was pretty interesting stuff. What Red Kap's workwear designers discovered is that technicians and mechanics might not know exactly what they want, but they certainly know what they don't want. And they sure react to a good idea when they see it.
These trips led to the Automotive Crew Shirt – which has quickly become the most successful product launch in Red Kap's history. Its popularity is due to the fact that the Red Kap Automotive Crew Shirt is a direct result of user research. Red Kap didn't try to come up with a cheap-to-make product and then try to market it to mechanics. That's the way many companies do business, but that only ends up putting products in mechanics' hands that they end up hating. No, Red Kap did it the other way. The right way. It asked technicians and mechanics what they wanted, and then made it.
Technicians and mechanics love Red Kap shirts because of the functional design thinking. Example A: The straight-bottom hem. If a technician didn't start the day with his shirt untucked, it quickly became that way after 10 minutes. So Red Kap got rid of the scooped tail, added some length, and created a neater hem, which allows the technician to maintain a professional look, while still appealing to comfort.
Exhibit B: The concealed "smart-placket." Technicians and mechanics are very conscientious about not damaging the cars they work on. So Red Kap's designers came up with a simply covered placket to offer a "scratch-free" solution.
Exhibit C: The sleeve utility pocket. As a "no-scratch" bonus, this pocket offers the wearer a place to move pens, permanent markers, penlights, and more from the chest pocket to the sleeve pocket, to prevent scratches before they happen. It's also really handy for working in tight spots.
Exhibit D: The chest security pocket. One of the techs Red Kap talked to said he'd lost his cell phone in a bucket of motor oil three times because it kept slipping out of his chest pocket. This feature is for him. A strategically-placed button solved the problem.
By focusing on the needs and habits of real-world people who need automotive uniform shirts, Red Kap has come up with a Crew Shirt that finally gives the people what they want. By using innovative techniques, a few efficiencies, and just a bunch of common sense, Red Kap shirts are a sensible, practical, and smart way to make the most of your workwear. Red Kap. Done right. Watch out for Red Kap Automotive Shirts available through Workingperson.com in the Fall of 2012. In the meantime search through Red Kap shirts, Red Kap Shorts, and Red Kap Pants, all brought to you by Working Person's Store.