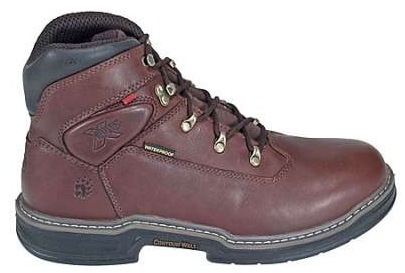 There are thousands of different kinds of work boots out there. Super-this, Dura-that; it's  hard to even know where to begin to look. Or what those terms all even mean. It can be overwhelming. But if you break it all down into the simplest terms, it's easier. You know you want boots that are durable, that are comfortable, and that will protect you. Those are the three basics, the Holy Trinity of Work Boots. Let's start there.
Wolverine has simplified the process. Over the many, many years, Wolverine boots have built a rock-solid reputation as an American-made company with the consistent ability to satisfy their customers. When a working person chooses a pair of Wolverine Boots, they're getting a premium product that has a proven track record of performance. Wolverine's latest iteration, featuring Wolverine Contour Welt Technology, was designed with those three basic goals in mind: To be ultra-durable, ultra-tough, and ultra-comfortable. Contour Welt boots have the kind of ruggedness you expect in a Wolverine boot, but with the flexible comfort you enjoy from a pair of sneakers. Yeah, we know that's a bold statement, but it's true. As flexible as a pair of sneakers. That's Wolverine's promise. That's Wolverine Contour Welt.
The key to the trifecta combination of comfort, durability and toughness is the fact that these Wolverine boots with Contour Welt Technology are designed to flex at just the right places, which is absolutely critical. Basically, the boot flexes in the same place that your foot naturally flexes. When your foot moves, the Contour Welt boot moves in the same way. It's a brilliant design, and it's harder than it looks. But Wolverine boots have mastered it.
But there's more to comfort. When you're on your feet all day, work can be extremely tiring, and fatigue is a constant battled. But Wolverine's multi-shock comfort system gives you the relief you need. You will literally feel the difference. Each and every Contour Welt style Wolverine boot features individual compression pads in the heel and front-foot that absorb shock and return energy, hour after hour. Giving you that extra boost to ward off fatigue and get the job done.
What's more, these are Wolverine boots that you never have to stop wearing. They last. And then they work some more. You know, kind of like you. With a lightweight rubber outsole that's slip-, oil-, and abrasion-resistant, they offer the safety and protection you need on the job site.
Wolverine Boots with Contour Welt Technology are tough, rugged, and extremely flexible. Just what you're looking for. Which is great, because at some point, you just get tired of looking, don't you? Thankfully, there's only one more choice to make: Which style? Wolverine Boots with Contour Welt Technology are available in several different styles: Low-cut six-inch work boots, Standard eight-inch work boots, Oxfords, and even 10-inch Wellingtons. Check out Workingperson.com for a great selection to find the right pair for you!