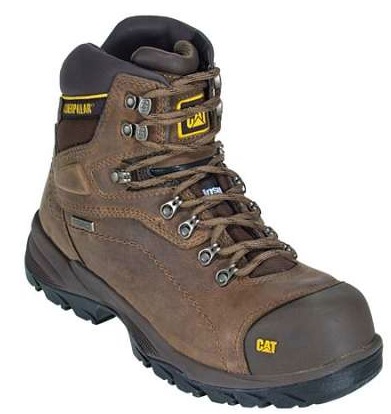 Look, we know they're not slippers. They're not moccasins. They're definitely not clogs. Your work boots are not the most comfortable piece of footwear you own. If they are, you owe yourself a new pair of morning slippers.
You choose your work boots for the hard work you plan to do in them, to work as hard as you do and be as tough as you are. Not for a cushy feel when you slip them on. So when we talk about comfort, we keep this in mind. But that doesn't mean comfort doesn't matter. In fact, the comfort level of your work boots can be the biggest factor in how fatigued you feel at the end of the day.
When it comes to comfort, nobody's got Caterpillar work boots' Ergo comfort system beat. The Caterpillar Ergo system is designed and engineered to integrate stability, flexibility and the comfort you require; along with the rugged durability you have come to expect from the Caterpillar work boots brand.
The Ergo system accomplishes this through a unique series of anatomically-accurate and biomechanically-considered features. They're designed to work with your foot through a series of natural movements, from walking to bending to lifting. Simply put, these Caterpillar work boots move the way your foot does. The result is durability and support, by cradling your foot for improved fit and comfort.
This is ergonomic footwear design at its finest, built to perform. The way Caterpillar work boots are designed is some high-tech stuff. At the level closest to your foot, there is an internal shank stabilizer, which enhances mid-foot stability. One layer down closer to the ground, you'll find the sculpted midsole. MIdsole sculpting in Caterpillar work boots provides superior motion control and support during a range of movements – walking, climbing, lifting, bending, jumping, etc — whatever it is you're doing.
Further down the boot, the heel clefts in the outsole absorb shock and help to lessen the sharpness of your foot's impact with the ground, for improved comfort. The Cat Footwear SRX sole provides superior slip resistance, for exceptional performance in even the wettest, oiliest, or just plain slick working environments. The Ergonomic outsole tread pattern mimics the shape of the foot, which provides enhances traction and cushioning. And finally, the outsole flex grooves allow these Ergo Caterpillar work boots to bend and flex with ease, which offers unmatched superior flexibility.
Caterpillar has built its reputation on tough, durable, heavy-duty equipment. That goes for its footwear too. For a company so focused on performance and long-lasting usability, it's impressive to find a them with a product so darn comfortable as well. Caterpillar work boots with the Ergo system work with your feet instead of against them. And you can feel the difference in every step, stoop, or scuffle.
Working Person's Store is proud to carry these high-performing products. We've got a great selection at Workingperson.com right now for you to choose from. Get yourself a pair today. And then, go treat yourself to some slippers or moccasins as well. Clogs? Well, hey man, we're not judging.