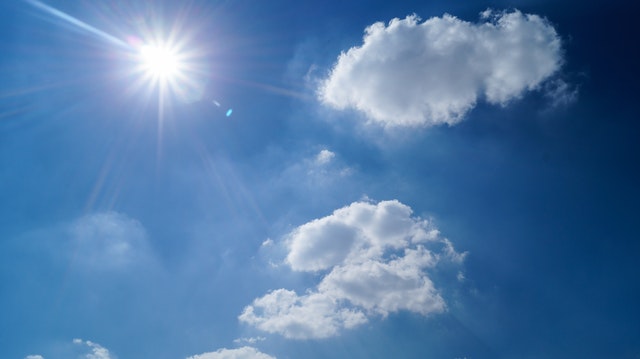 Summer is in full swing–if you work outside then you know this all too well. Thanks to advances in fabric technology, clothing is now more equipped to help you stay cool. Moisture-wicking fabrics can be especially helpful. Many wicking fabrics are made with polyester blends that are woven in a way that forces the moisture through the gaps of the weave so that it evaporates, leaving your skin cool. To keep you from melting, we're highlighting our favorite work gear–including moisture-wicking options–for the dog days of summer.
Carhartt Force Men's 100410 034 Heather Grey Moisture Wicking Force Tee Shirt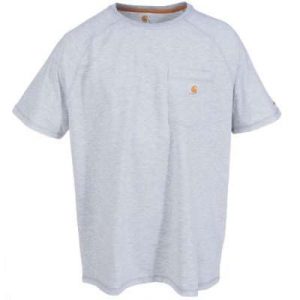 Our Carhartt Men's Force 100410 Heather Grey Moisture Wicking Short Sleeve Wrinkle-Resistant Tee Shirt is made with a lightweight 5.75 oz. blend of cotton and polyester with a light grey color for maximum coolness. The cotton material keeps the design breathable. The polyester portion adds quick-drying, wrinkle-resistant properties. You'll also enjoy its moisture-wicking fabric that will draw sweat away from your body. The relaxed fit design, with raglan sleeves gives you a comfortable wear with full range of motion. The chest pocket with the classic Carhartt logo adds a subtle level of style to your next go-to summer shirt.
Dickies Men's 1574 ER Red Stain Release Short Sleeve Work Shirt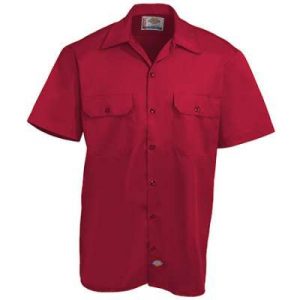 In our Dickies Men's Red 1574 ER Stain Release Moisture Wicking Short Sleeve Work Shirt you'll look en fuego but feel fresh and cool. The fabric wicks moisture away from skin to leave you dry and comfortable. The polyester adds quick-drying wear-resistance and the cotton is soft and breathable. The material has a stain-release finish to keep you looking polished. The standard spread collar, button down design and square tail will help give you a tailored, professional style. Dual chest pockets–including a pencil division stall and mitered flaps and button–give you storage for all of your workplace must-haves.
Carhartt Men's Fatigue B147 FAT Cotton Canvas Work Shorts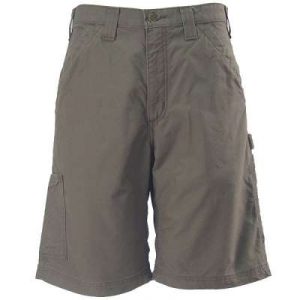 Shorts are God's gift to outdoor workers. Give your legs some breathing room with our Carhartt B147 FAT Cotton Canvas 7.5oz Work Shorts made with 7.5 ounces of 100% cotton. This lightweight gear gives you optimal air flow. They're also built to last with triple-stitched main seams and bar tacks at the stress points. When you've got a job to do, the hammer loop along with the ruler and tool pockets will help keep your hands free. When you're not on the clock these shorts will stay working for you–around the house, out at a baseball game–or wherever your summer takes you.
5.11 Tactical Men's Khaki Cotton Canvas Work Shorts 73285 055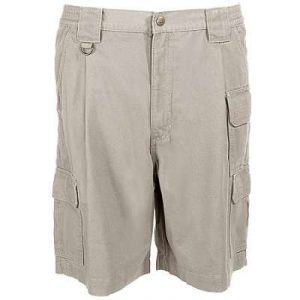 Every man needs a trusty pair of khakis shorts that are versatile enough to wear on the golf course or the worksite. Our 5.11 Tactical 73285 055 Men's Khaki Cotton Canvas Work Shorts will keep you cool no matter where you travel with their light khaki color and lightweight, 8.5 ounce cotton canvas fabric. The tightly-woven canvas is durable, water-resistant and resists wrinkles better than traditional cotton cloth. These shorts are reinforced with bartacks in high-stress areas and are made with double- and triple-stitch construction so you can keep them around season after season. The self-adjusting comfort waistband is made to move with your body for a comfortable fit. The D-ring, wrap-around pockets and rear strap and slash pockets give you plenty of storage. Most importantly, the seat is double-thick to give you coverage where you need it most.
Wrangler Men's 47MCV LS Cool Vantage Blue Denim Performance Regular Fit Jeans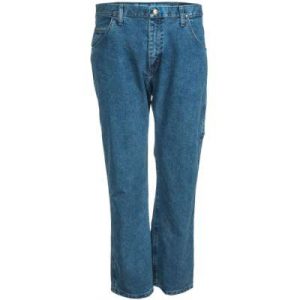 Wearing conventional denim on a hot day is no easy task. Sweat and moisture soak into the fabric, weighing down the denim. But since some days call for long pants, we're lucky that Wrangler has found a solution. These jeans employ their exclusive Cool Vantage technology to help keep your legs cool and dry even on the hottest days. With this technology, sweat is wicked away from your skin five times faster compared to conventional denim. With a cotton/polyester blend, these Cool Vantage jeans come in the classic Wrangler original Cowboy Cut. They feature a regular fit through your legs and a mid rise on your waist. The bootcut leg openings provide you with plenty of space to fit over your work boots. They have a zipper fly with a button closure, and five convenient pockets.
Carhartt Men's Khaki Flame-Resistant Canvas Jeans FRB159 GKH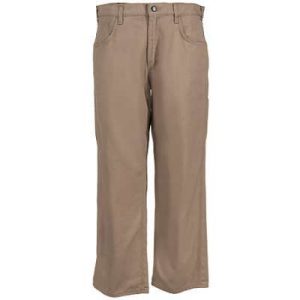 These golden khaki jeans have been crafted from an 8.5 ounce flame-resistant midweight canvas blend of nylon and cotton for a light and breathable fit. Abrasion-resistant and lightweight, the nylon adds just the right amount of strength to the soft, breathable cotton material. Styled to sit below the natural waist, these jeans have a loose seat and thigh area so you can move and work with flexibility. Offering you total flame resistance, even the brass zipper fly is protected with flame-resistant Nomex zipper tape. The high-tension waist snap closure is arc-resistant and can withstand sparks, heat and flame. Learn more about our FR gear for summertime.

At Working Person's Store we carry a wide variety of clothing, accessories and shoes designed specifically to help workers stay cool while working in the summer. Learn more about our favorite cooling products and view our full selection.