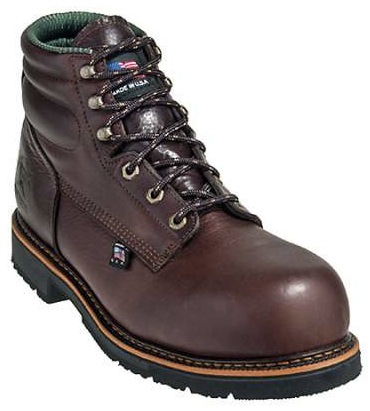 With so many different types and styles of work boots and safety footwear on the market today, it can sometimes be an overwhelming task to choose which ones are right for you.  You know you need your shoes to be protective and durable, but how do you factor in comfort and fit?  How important is a shoe's construction or the materials used?  At Working Person's Store, we want you to have the best experience possible when purchasing your safety footwear, so we've outlined the basics in choosing the best pair for you.
The first important feature to consider is the sole.  There are several durable materials out there that ensure that an outsole is long-wearing, slip-resistant and protective.  One option is the rubber outsole.  A common outsole component, rubber is usually abrasion, oil and slip-resistant.  Vibram is a high-performance rubber which is a good choice for those working on both wet and dry surfaces and on rugged terrains.  Another option is the Thermo Poly Urethane (TPU) outsole.  These outsoles are designed to be tough, they are more lightweight than rubber and resist splitting.  They are also abrasion, oil and chemical resistant.
Another consideration when looking at the sole of a shoe or boot is its midsole.  The midsole disperses weight and provides stability for the foot.  An ethylene vinyl acetate (EVA) midsole is lightweight, flexible, and designed to cushion the foot.
A shoe or boot's construction is also a necessary consideration when selecting safety footwear.  When a boot's sole is cemented directly to the upper, it is considered a  cement construction.  While cement construction is lightweight and flexible, it is also subject to de-lamination over time and cement constructed boots cannot be resoled.  A Goodyear Welt Construction does allow for repairing and re-soling.  With a Goodyear Welt Construction, the upper and inner soles are stitched together with a leather strip (welt) and then the sole is stitched through the welt.
Just as important as the construction and soles are the safety toes.  There are three types of safety toes available for work boots: steel, composite and aluminum.  The most traditional choice is the steel toe, it is the heaviest and most compact.  However, steel toes can conduct temperature more than the other options.  Aluminum toes are more lightweight but are thicker than steel toes and they still meet ANSI/ASTM safety standards.  Finally, composite toes are made of carbon fiber, plastic or Kevlar.  They are also lighter than steel toes and are the thickest type of safety toes which gives them a bulkier silhouette.  Composite toes do not conduct temperature and are great for workers who need to pass through metal detectors or who are working in a metal-free environment.
While the right materials and construction are essential, you must not ignore the importance of a good fit for your footwear.  Your safety footwear should not leave your feet rubbed raw or sore with blisters.  Safety toe shoes hoes that are too tight can lead to foot problems such as in-grown toenails, corns and more.  Keep in mind that a leather boot will stretch and conform to the shape of your foot, but a steel toe will never stretch.  Don't hesitate to move to a wide width if a boot feels too snug.
When trying on boots and safety shoes, do your research first!  Always be aware of the requirements you might have in your work environment.  Feet will swell throughout the day so try to shop for your boots in the afternoon or early evening, this way you know that your boots will hold up even on your longest work days.  Bring a pair of the work or boot socks that you would typically wear with your safety footwear to try on underneath.  Remember that quality footwear usually includes some after-care.  Treating leather with mink oil or leather treatments will keep the materials water resistant and supple.  Store your safety footwear in a clean and dry place in between uses.
Be sure to check out the wide variety of safety footwear offered at Working Person's Store including safety boots and shoes.