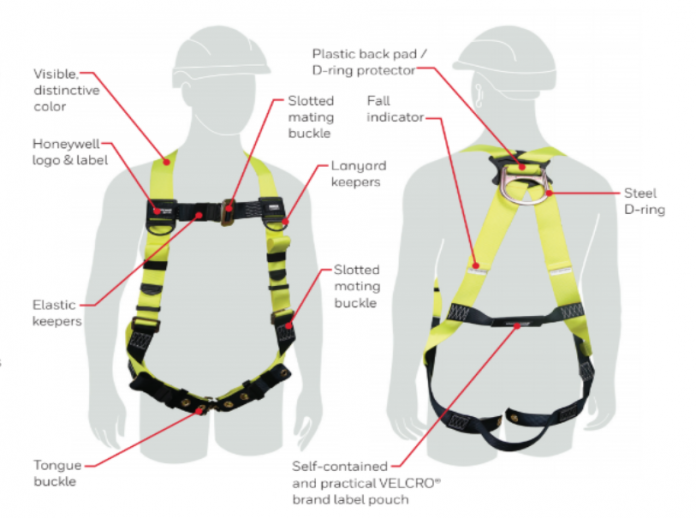 Fall protection is a must-have when there's any chance of you having a misstep at your workplace. With a Honeywell Safety Harness from Working Person's Store, you'll be protecting yourself with a comfortable design while also being OSHA compliant.

Here are some quick specs on this durable and lightweight harness:

– Weight Capacity of 400lbs
– Five Point of adjustment for a custom fit
– Covered identification labels to protect during the lifetime of the harness – this keeps them OSHA compliant. (If labels are damaged or unreadable the harness is considered unsafe and not to be used.)
– Meets ANSI Z359-11-2014, OSHA 1910.140, and OSHA 1926.502

By utilizing the adjustable straps in a five-point design, you'll be able to find a customized fit that's perfect just for you. This personal protective equipment ensures you have dependable fall protection that's equipped with steel and webbing for a high-quality design you can trust. Once you tailor the fit of this OSHA-compliant safety harness to your liking, you'll be more confident on the job site knowing you have a reliable, comfortable fall protection system on your side.

This bright yellow harness has a 400-lb weight capacity, so it's a great option for most workplace situations where fall injuries could occur. Personal fall arrest systems are crucial, as falls are one of the most common causes of work-related injuries and deaths. This industrial design from Honeywell follows ANSI safety guidelines for a full-body harness that can be used for fall arrest, suspension, and rescue applications, too. The PPE meets OSHA 1910.140 for personal fall protection, and OSHA 1926.502 for corrosion-resistant steel erection that meets detailed specifications on weight maximums, the height of potential falls, and more. It's a good idea to have a safety net below you and guardrails nearby if you're working from greater heights, but having this Honeywell product properly on you can greatly reduce your risk of job site injuries if you follow precautions and abide by OSHA stipulations.

It's important to keep the identification labels visible and undamaged the entire time this PPE is in your possession for it to be considered valid. Don't take chances – stay safer by choosing this safety gear from Working Person's Store.