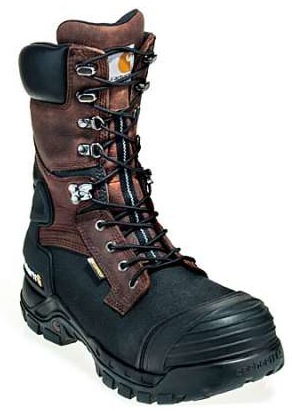 The winter season can present many challenges at the workplace as well as safety risks.  With cold temperatures and the presence of ice and snow, workers need to be thoughtful in selecting the right protective gear to wear on the job.  One of the most important piece of safety equipment is the work boot.  Without the right pair of winter work boots, you could be at risk for slips, trips and falls.
With all of the work boot options that are out there today, it can be difficult to select the one that will best fit your needs.  It is essential for you to keep in mind the conditions that you may be working under.  Will you be working outdoors?  If so, how cold can it get?  How much snow and rain can you expect?  And, what kind of work will you be doing?  By answering these questions you can narrow down your options and choose the boots that have the features you need.  It is also important to familiarize yourself with some of the safety features of work boots, that way you know exactly what to look for.
For some jobsites, you might require a boot with a safety toe.  There are three types of protective toes to choose from: composite toe, steel toe and aluminum.  Since all three can be ASTM-rated for protection, you need to consider your working conditions to find out which type of safety toe is best for you.  For the winter months, composite toes may be the best choice because they do not transfer cold or heat the way metals do.  Composite toes can ensure more warmth in addition to protection.
Insulation and waterproofing are also important features to consider.  For insulation, keep in mind that the higher the gram rating, the warmer the boot.  If you are dealing with snow, ice and rain, you will likely need a work boot with waterproofing.  Some boots feature GORE-TEX membranes for waterproofing while others have a waterproof leather and liner.  KEEN boots feature KEEN.Dry technology which wicks moisture away from the feet while also keeping moisture out.
Welt construction is another safety feature that can increase your stability.  The Goodyear Welt Construction is a quality and durable welt that is known to increase the life of a pair of work boots.  The welt construction is what allows boots to be re-soled or repaired, lengthening the life of your favorite pair.
There are a variety of work boots offered on Workingperson.com with descriptions to assist you in making the right choices for your individual workplace.  While you are there, don't forget to search for socks that can also help keep your feet comfortable and dry!