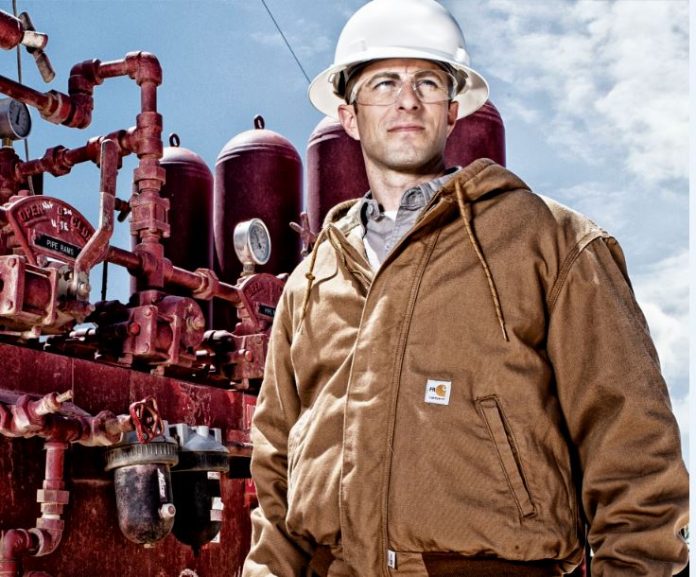 With its ability to transcend class, culture and age, you've probably heard of the beloved and rugged Carhartt brand. If you're a working person you more than likely own a piece of their classic gear. How did this widely popular brand get its start and build its legacy? A closer look into the company's 125-year history reveals a story of dedication to the working class, adaption through economic turmoil and a multi-generational passion for quality.
Getting Started, WWI and The Great Depression
It all began with just two sewing machines, five employees and a big dream. Carhartt's website tells the story of Hamilton Carhartt founding the Hamilton Carhartt & Company back in 1889. After talking with railroad engineers Hamilton discovered a need for high quality workwear and resolved to provide "honest value for an honest dollar." The company launched the Carhartt union-made bib overall that was made of denim fabric and duck, also known as canvas. This would later became Carhartt's trademark fabric.
Expansion for the brand took off during the early 1900s as they built mills in South Carolina and Georgia and sewing facilities in major U.S. cities as well as internationally. With its success, the company was able to offer use of several facilities to the U.S. government to create military uniforms for the soldiers fighting in World War I. During this time the brand's legendary Carhartt Chore Coat was born and it's popularity continues today.
Despite real financial struggles after the 1929 stock market collapse, Hamilton and his sons remained resilient and kept the business alive. Even amidst the turmoil of the Great Depression, Hamilton supported workmen's rights, women's rights in the workplace, and 8-hour workdays.
Change and Progress
When Hamilton passed, his son Wylie Carhartt took the reigns of the company. Wylie opened operations in Kentucky in an attempt to offer healthy working conditions at union rates, away from the slums. His goal was to alleviate the poverty and distress that was plaguing the nation.
In the early 1970s, under the ownership of Robert Valade—Wylie's son-in-law, Carhartt began production in its first modern facility. This was a step forward for the company, positioning it to be able to do private label business for major stores like Sears and JCPenney. In 1976, the brand introduced its hard-finish duck Active Jac in "hoodie" form—the style remains the top-selling jacket for Carhartt today.
Fashion Forward
In the 80s and 90s the Carhartt brand started becoming a fashion statement across a variety of new demographics–from hip-hop artists to skaters. According to The Guardian, hip-hop label Tommy Boy Records handed out promotional jackets to key industry players which helped them gain popularity. The endorsement from hip-hop, coupled with a high quality product, ushered Carhartt to the forefront of street and work wear.
In 1996, Mark Valade took the role of president and focused the company's strategies around global business and leveraging new technologies. He launched retail stores, a women's line, and a Flame-Resistant line of garments that has been a huge success. Valade also introduced new technologies like Quick Duck®, Storm Defender®, Rain Defender®, Carhartt Force® and others.
Today, the Carhartt brand lives on in its success and employs over 2,000 people in Detroit, Kentucky, and Tennessee. In a Forbes interview Valade said, "While we have shifted strategy over the years or adapted to the times, Carhartt has never waned on its core value of making the very best apparel for the active worker. We will never compromise that principle of our business model … ever."
Visit Working Person's Store at WorkingPerson.com for a wide selection of Carhartt products.