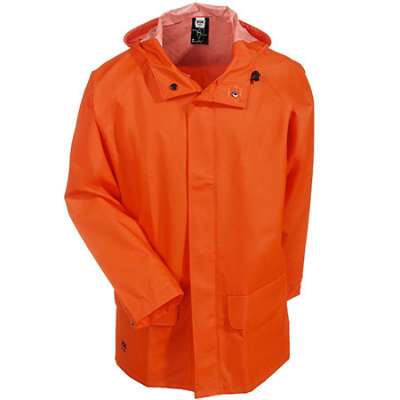 It's March, so spring's (hopefully) right around the corner. And it's getting warmer all the time. Great! But it also means we're probably going to get a bit of rain, too.
 So it's about the time of the working year you might want to have a think about rain gear. We know, we know, we'd all rather not, but hey, it doesn't have to be so painful. Rain gear has come a long way from shapeless, rubbery work waterproofs. With advances in fabrics and a whole host of fashion brands getting into the worker's market, there's a whole world of new rain gear to choose from.
So let's get under that waterproof skin and see how the kind of advances that have been made, work for you.
When the job's got to be done, sometimes you've got to do it – whether it's raining or not. So when that time comes, you want to be dry, but you want to be comfortable too. And that's true of a lot of workwear, but it matters especially when it comes to rain gear. For instance, FR clothing will help protect you from a fire, but you're probably going to get straight out of a dangerous fire situation as quickly as possible, rather than carry on with the job. At least not until it's safe again. But, sadly with rain sometimes you've just got to plow on through.
And it's important too that the new generation of rain gear is designed around what the working person does, wherever they do it.
Remember those stiff, rubbery raincoats you used to wear as a kid? Well, you'll be happy to hear they've been retired and replaced with fabrics that are breathable, quick-drying, tear resistant, and often designed in one piece for ease of movement.
Every brand does it differently of course, but with stretch polyester knits, polyurethane resins, neoprene detailing, and space-age fastenings, it gives designers more licensee to design great looking, effective rain gear.
And because the fabrics are lighter and more flexible, rain protection means you can move on the job, and if you're working in tight and uncomfortable spaces at least you're not working in tight uncomfortable clothing.
A lot of brands are using well-known materials in new and interesting ways. Nylon makes rain gear more resistant to tearing, so waterproof isn't undermined by holes. It's also more resistant than wool or cotton when it comes to damage from things like oil or other chemicals.
They even think about things like airflow now because there's nothing more frustrating than sweating away on the job in restrictive rain gear. That's why moisture wicking fabrics have been developed and incorporated to let your body breathe because dry should mean you stay dry, not wet with sweat.
Yes, it's spring – time to think about rain gear again. But when you do, think mesh, think RipStop. And think light, breathable, flexible, and strong.
Jackets, pants, ponchos, bibs, and suits. A new generation of rain gear with a real choice of features and technology. And just look at the list of brands that are designing waterproof workwear now – Carhartt, Hi-Tec, Berne Apparel, Helly Hansen, and more.
Great news! But you know the best part? They're all right here at WorkingPerson.com. Stay dry this spring and stay cool this summer – whatever the weather.