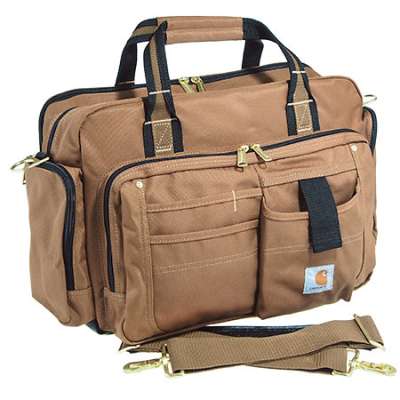 Carhartt is one of work wear's biggest name.  Their products are known for their durability, their quality, and their ability to keep you safe and comfortable through a long day of work.  The first garment to bear the Carhartt name goes all the way back to 1889 when Hamilton Carhartt created the first overall garment made specifically for railroad workers.  From there, Hamiliton Carhartt strived to make each one of his products in the highest quality.  Expanding from a company with only 4 sewing machines and 5 employees to one with more than 17 plants and 3 mills throughout the United States, Canada and Europe, Carhartt continues to be a leader in the workwear industry today.
Working Person's Store and Carhartt have long been a perfect match.  As we strive to bring you top quality brands of work wear, footwear, and safety gear, the Carhartt reputation always stands out.  Like Carhartt, Working Person's Store, with the opening of workingperson.com, has expanded to serve working people all around the world.
Working Person's Store is pleased to bring you yet another collection of awesome products from Carhartt – Carhartt tool bags.  In a variety of colors, shapes, and styles, Carhartt tool bags are bound to be your go-to bag to hold all of your gear.
If you prefer the balance and capacity of a backpack, try the Legacy Standard Work Rain Defender Backpack.  Available in black or brown, this tough and roomy backpack is lightweight, water-resistant, and durable enough to withstand the elements in an industrial workplace.  Carry clipboards, paperwork files, a laptop, your phone, and any other gear with ease in this backpack that is built to last!
If a briefcase, tool bag, or roll up bag is more your thing, you can also get these great Carhartt essentials from Working Person Store.  With several designs available in water-resistant materials, these bags will keep your equipment dry, preventing damage to your tools, electronics and paperwork.  Whether you work primarily indoors or outdoors, Carhartt is sure to have a bag that will suit your needs.
Don't waste your money on a duffel bag or backpack that will just fall apart.  Trust the same name that you trust for your workwear to carry your gear.  With the same strength and durability found in Carhartt work wear, these bags promise to be around for the long haul.