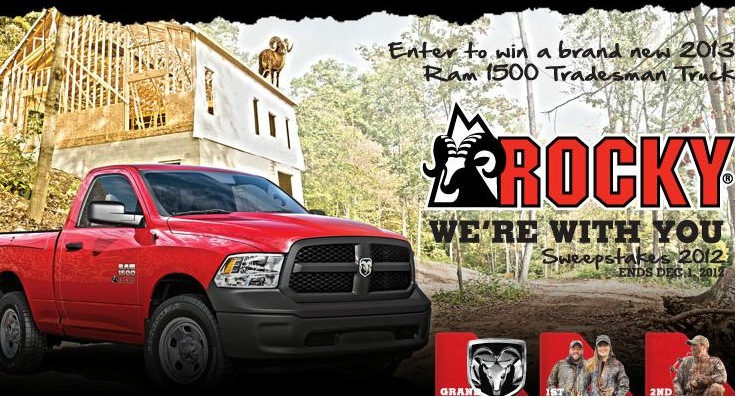 If you are a Rocky Footwear consumer or sales associates then you must know that a recent press release from Rocky Brands has headlined "Rocky Brands announces We're With You Sweepstakes winners. This sweepstake was begun in the early months of 2012 and the grand prizes are now being offered not only to Rocky Brands consumers but also to its sales associates or partners at Rocky retail outlets throughout the country. In its consumer contest, Gaye Marie Folsom from Ocala Fla. won the Grand prize and the dealer prize has gone to Rex Read from Clearfield, Pa., who works as a manager at a Rocky Brands sales associate the Bob's Boots. Both of these winners now enjoy the ownership of brand new 2012 Dodge Ram 1500 Tradesman trucks.
Sam Bowman, marketing manager for Rocky's outdoor and work divisions showed his pleasure at the success of winners and said, "Congratulations to both Gaye and Rex, and we hope the Dodge Ram 1500 Tradesman trucks serve them as well". He further adds, "Rocky customers are a loyal group, and our dealers work hard to spread the word about our products. This contest has been a great way for us to show our appreciation to both groups."
It is said that a huge number of customers had entered the contest at Rocky retail outlets throughout the country and through online services. Moreover, sales associates at Rocky retailers made more than 21,000 entries by selling pairs of Rocky boots. A first and second prize worth of $5,000 and $450 respectively has also been awarded in the consumer contest.
Rocky Brands is a chief designer, manufacturer as well as a marketer of first class quality rocky boots, work boots and attires. Most of the collection of Rocky Brands is marketed under the name of many well-known brands, which include Rocky, Georgia Boot, Durango and Michelin footwear brand. Rocky Brands is a proud supplier of work boot and rocky boot to the United States military. The Rocky Brands collection has a wide variety of Rocky boots ranging from commercial military footwear, hunting boots and work boots to western footwear.
Contests like "We're With You" are not only full of luxurious and exciting experiences but also act as a motivational force for attracting more people to the world of safety workwear. Workplace safety is being extensively discussed and now in this era of technologies we all need workplace safety as a basic need of work. We highly appreciate contests like "We're With You" by Rocky brands and offer our heartiest congrats to the winners.
Chances are that the Rocky brands will keep conducting such contests in the future, so if you do not want to miss this opportunity visit WorkingPerson.com and buy a pair of Rocky boots for yourself and enjoy safety!