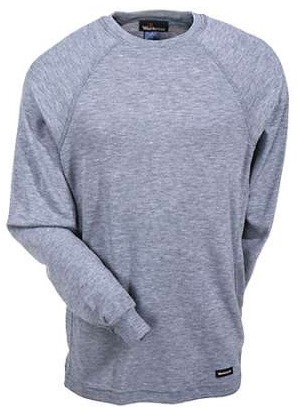 Flame resistant and comfort. Did you ever think you would see the day when those two things would be in the same sentence? Well check the sky because pigs might be flying; that day has arrived. Workrite's new knit long sleeve FR Tecasafe shirt (277TK67) has set the new gold standard when it comes to flame resistant (FR) comfort. These are the TenCate Tecasafe Plus variety, which is a leading-edge fabric. That is kind of a fancy way of saying they're awesome and will keep you safe, while still feeling like something you'd want to be wearing because it just feels so normal and comfortable.They're dual-hazard, which means they will protect you from both flash fire and arc flash hazards, and the inherent flame resistant protection cannot be washed away or worn away.
Go ahead and try to wear these fire-resistant shirts out. It'll take a while. And thanks to a unique blend of fibers, they also excel at moisture management. Which, of course, makes you more comfortable too. It's a completely new style from Workrite, with a more modern fit and features like a longer tail, a ribbed-knit collar, a fully finished rib cuff, and a raglan sleeve styling with top-stitch. They look and feel like regular street wear, so you will look good on the job, and won't even need to change out of it off the job. That's not only dual-hazard, but dual-purpose! These Workrite Tecasafe Plus long sleeve t-shirts are the first inherent FR knit specifically made to withstand industrial laundering, so they're incredibly durable. But you can also wash them at home, so they're also incredibly convenient. They will continue to look and feel good wash after wash after wash, retaining their strength, shape, color and feel. Because they are so safe and yet still so comfortable and versatile, they're great for firefighters as well as industrial career fields. The Tecasafe Plus fabric is NFPA 1975 and NFPA 2112 compliant, the shirts are NFPA 1975 and NFPA 2112 certified, and they meet Hazard Risk Category 2 for NFPA 70E, all serious stuff when it comes to your safety.
These fire-resistant Tecasafe shirts are also protected by Workrite's One-Year Workmanship Guarantee, which is certainly nothing to sneeze at. After all, Workrite is a leading provider of flame resistant (FR) workwear around the world. "These are the nicest FR knits we've seen in terms of comfort and after-wash color retention. They really set a new standard," says Charlotte McGee, director of marketing for Workrite. "And with the ability to be industrial laundered, they are perfect for all our customers regardless of what type of FR program they are in." Any working person knows that they have to be safe, but wearing a comfortable long sleeve t-shirt doesn't normally come with this kind of FR protection. Available in sizes small through extra large in a heather grey color, grab yours at Working Person's Store today, and start feeling comfortable in a flame resistant shirt for a change.