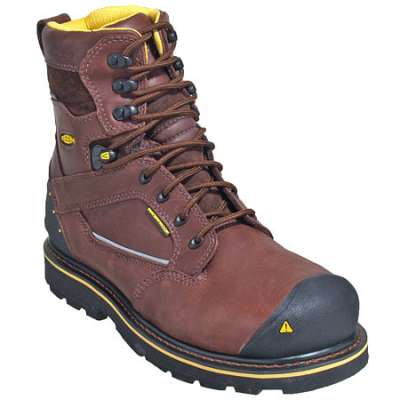 Protective, safety footwear is essential to ensure safe and healthy feet. Steel toe boots and shoes protect your feet, help prevent injuries to them, and reduce the severity of injuries that may occur in the workplace. According to the National Safety Council, only one out of four victims of job-related foot injury wear any type of safety shoes or boots. The remaining three are unaware of the benefits of protective footwear. Today's safety footwear is comfortable, flexible, and stylish and provides necessary protection from injury. The foot is the most valuable part of your body subjected to injury in industry. Because of the many potential work hazards, it is important that you discuss with your supervisor the safety shoe, boot, or other protective equipment that you need for your protection.
The OSHA requirements for protective footwear are found within 29 CFR 1910.136. The general requirements of this regulation are that the employer shall ensure that each affected employee use protective footwear when working in areas where there is a danger of foot injuries due to falling or rolling objects, or objects piercing the sole, and where such employee's feet are exposed to electrical hazards. To ensure you have the best level of protection in your work environment, an effective fit and selection of safety footwear is required.
Protective footwear purchased after July 5, 1994, shall comply with ANSI Z41-1991, "American National Standard for Personal Protection-Protective Footwear," which is incorporated by reference as specified in Sec. 1910.6, or shall be demonstrated by the employer to be equally effective. Protective footwear purchased before July 5, 1994, shall comply with the ANSI standard "USA Standard for Men's Safety-Toe Footwear," Z41.1-1967, which is incorporated by reference as specified in Sec. 1910.6, or shall be demonstrated by the employer to be equally effective.  Hopefully, you have replaced those safety boots by now!
There are many instances where the foot and toes would be at risk. In many workplaces falling and rolling objects or cuts and punctures are a serious concern. A steel-toe safety shoe would help protect workers from injuries. There are many hazards the average working person comes in contact with every day. The proper footwear can prevent unnecessary accidents.
It is clear to see that most hazards can be prepared for and avoided entirely. Why should you wear protective footwear? It is a simple precautionary method of keeping yourself safe. If you know the risks of your job then you should prepare for them with safety work and footwear provided to you by workingperson.com.