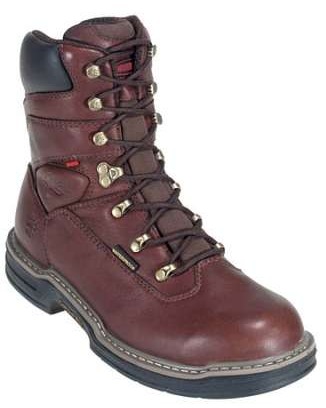 In the daily hustle and bustle of your job you sometimes forget what an employee really needs to get their job done comfortable and done right. Many of the jobs need the employee to stand and walk long hours, so in such cases hitting the job site with long-wearing comfort and durability under your feet is what all you really need. Suitable safety footwear makes the worker steadier on his feet, safer, more comfortable and better at his job. If you compromise the health of your feet with some inferior quality and price boots then you will not be able to work efficiently, as they will keep making your feet dragging and sore. Keeping in mind the various comfort needs of workers at the workplace, many shoe making companies are employing different advanced technologies to provide their customers with the best experience and Wolverine boots are one such technology-based boots.
Wolverine's Contour Welt technology is designed to provide ultra durability, ultra toughness, and ultra comfort. The boots that contain such technology are Wolverine Boots and these are such comfortable boots that you will never stop wearing them. These Wolverine boots have a lightweight rubber outsole that is slip, oil and abrasion resistant. These boots have a revolutionary welt design that allows the boot to bend and flex at essential points for maximum performance. When you have a heavy duty and need to be on your feet all day then wolverine multi-shock comfort system is your answer.
The Wolverine boots contain contour welt soles, which feature individual compression pads that absorb shock and return energy hour after hour. These boots are specially designed to move with you in your environment, the Wolverine Contour Welt in these boots provide the flexibility and comfort of an athletic shoe with the support and durability of a work boot. Now teaming with new Wolverine Armortek guard around high-wear areas, Wolverine contour welt is providing unbeatable comfort and durability.
Wolverine contour welt provides rugged, tough and extremely flexible shoes, which are available in low cut 6-inch, standard 8-inch work boots, oxfords and even 10-inch wellingtons. You can find many different styles of Wolverine boots at Working Person's store; Wolverine Shoes: 4306 Durashocks Slip Resistant Oxford Shoes, Wolverine Boots: Men's 8 Inch MultiShox Work Boots 2425, Wolverine Harrison 6 Inch Brown Lace-up Work Boots 4906 and Wolverine Boots: Men's 10 Inch Wellington Work Boots 8285 are some of the examples.
All of these Wolverine boots contain the slip-resistant Wolverine polyurethane wedge outsoles, which are highly resistant to abrasions and are oil-resistant, making them perfect for any worksite from the city to the ranch. The Wolverine Contour Welt has made these boots best suited for all the rugged and tough works or play.
Do visit WorkingPerson.com if you want to get one such comfortable and durable pair for yourself!