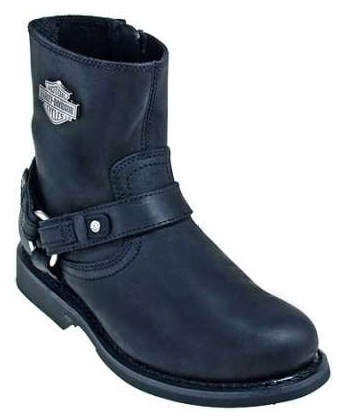 Can't say Harley Davidson isn't revved up for 2013.  A licensee of Wolverine Worldwide, think Harley Davidson Boots and Footwear and you might conjure up tattoos, bandanas, muscle, and men, as well as the studliness and hefty metal buckling of biker boots that accompany them; but while the classic riding boots for the burly, bearded bikers (and the women who don motorcycle boots and bikes themselves) are still there, Harley Davidson Footwear has shifted gears toward more fashion-forward silhouettes.  Without losing its biker heritage or weathered leathers, the company's new contemporary foray whispers the Harley Davidson legacy, holds tight to quality, and takes footwear off road.
New trend-driven styles are innovative enough for people without bikes (or even knowledge of them), yet provide rugged rider men and women aficionados of the Harley brand a lifestyle wardrobe choice.  Homage is paid to the performance line with authentic Harley biker boot details, like buckles and studs, but toned down and more subtle.  And the everywhere appeal is apparent in the finely weathered leathers and understated logo embossing. The look speaks motorcycle without the lug.  Yet, with the comfort and trust in Harley Davidson riding boots, the new collection will drive true bikers and wanna-be's to new places.
While boutiques will carry the softer outsole Harley Davidson footwear to reach folks who might pose or dream, Working Person's Store also will carry the fashionable new line as well as continue with a full selection of the brand's innovative high performing riding boot footwear.  Personal favorites from the new women's line are the Sadie or Serita for their everyday versatility with straight leg jeans or skirts; and for men, the Constrictor or Scout that can go beyond the road-side stop to a classy dinner date at an upscale eatery. For your own pair of Harley Davidson's revamped riding boots visit WorkingPerson.com today!