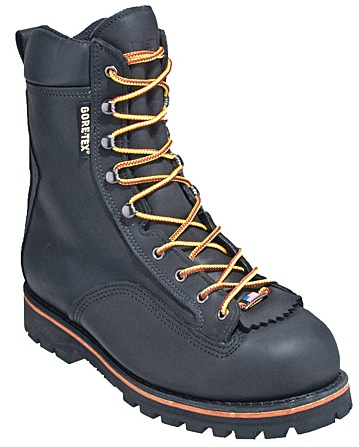 You take pride in the work you do. So when you go to work, you're doing a lot more than just punching a time clock and breaking rocks. You're pouring a bit of yourself into everything you do. You're creating something. And when you do that, the result is something much more than just work. It's craftsmanship.
A good craftsman can recognize good craftsmanship. There's a difference. When it comes to finding the best craftsmanship in work boots, you don't have to look very far. Wolverine's new line of work boots, The Northman, are made right here in the United States. These high-quality work boots are handmade at Wolverine's factory in Big Rapids, Michigan, by hardworking, skilled American men and women just like you.
Wolverine believes that when it comes to making top-quality work boots, you can't eliminate top-quality workers. That's why Wolverine's Northman work boots are handmade by actual human beings. Because without craftsmen, there is no craftsmanship.
And their craftsmanship hasn't gone unnoticed. Wolverine's Northman work boots were honored with the award for 2011 New Product of the Year by Occupational Health and Safety magazine. This is a rare and tremendous honor. But really, when you consider Wolverine's philosophy about craftsmanship and pride in American-made products, that shouldn't surprise you.
Not only are Wolverine's Northman work boots made by top-quality craftsman, they are made with top-quality materials. Each boot is made with a Horween leather upper, which is the gold standard of leather. Add a Goodyear welt construction, Gore-Tex waterproof lining, and a rubber Vibram 360-degree outsole, and you have a veritable who's who of iconic companies, collaborating to create the best work boot on the market. Created by American workers, we might add. There is also Wolverine's Northman steel toe work boots, providing the same features but with a tougher toe.
That's because doing the best work means not cutting corners. You don't do that in your job, so Wolverine doesn't either. There's a difference between just getting it done, and getting it done right. The difference is craftsmanship, and that's what you get with The Northman work boots by Wolverine. They're built to perform and built to last.
The American flag on the toe laces says it all. The award says even more. But after putting on a pair of these Wolverine Northman work boots, you'll say, "Wow." You can get them today at Workingperson.com, which offers both the steel toe and soft toe varieties, in either brown or black.