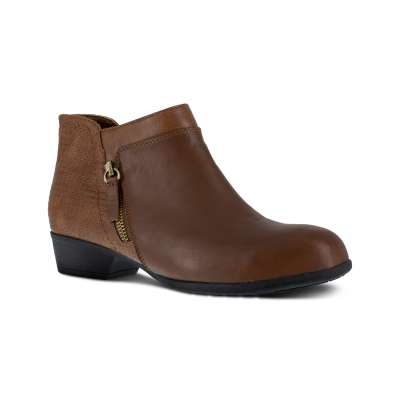 If your job requires you to be versatile, you need women's footwear that's able to adapt. These women's safety toe shoes are built for officer employees and managers who often need to venture around the warehouse or go out in the field.

Need to monitor the daily functions in the stockroom? Do you oversee employees who are picking, packing, and shipping or help out with land surveying and keep an eye on fieldwork? If so, your feet require multifaceted footwear.

This rugged pair of work shoes is built with durable leather exteriors plus other safety features that can take on a wide variety of job settings while still offering a professional appearance.

We're here to quickly break down the specifications for you! You'll be surprised by all that this Rockport footwear has to offer, so check out the info below.

Special features:
Alloy safety toe caps for protection against impact and compression hazards
Electrical hazard rated to guard you around live circuits
Slip-resistant rubber outsoles for awesome traction
Side-zip entry that makes it easy to get these women's shoes on and off
Brown leather uppers that fend off dirt and debris
True and breathable foam comfort system
Low, defined heel for stability

You don't want to lug around an extra pair of work boots with you every day. Instead, wear these professional, comfortable dress shoes that are office-ready but can handle the more intense job sites. Keep your on-the-go feet cushioned and protected with this impressive Rockport Carly alloy toe design available at Working Person's Store.