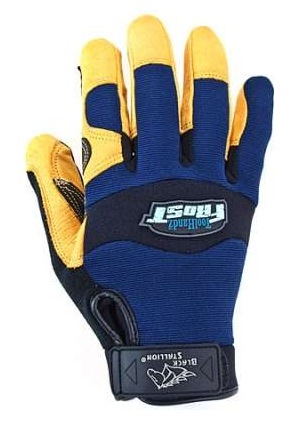 Raise your hand if you've heard any of these excuses before: "I can do a better job without gloves" or "gloves get in the way of good grip" or "wearing gloves makes my hands sweaty and slippery." Statistics show that wearing protective gloves in industrial work reduces the risk of hand injury by a whopping 60 percent. Yet time and time again, getting employees to wear protective gloves proves to be one of the biggest challenges employers face.
OSHA regulations put the responsibility for glove-wearing on the employer, not the employee. Which means it's your job as a business owner to make sure your employees are properly protecting themselves. While that might seem unfair, the reality is that the best way to ensure your employees follow these important protocols is not enforcement, but rather, understanding.
The biggest reason workers reject wearing protective gloves is that they are simply wearing the wrong ones. In many cases, employees are being required to wear a glove that is not best suited for the work they are doing. But these days, there are so many task-specific gloves models out there, that any objections to wearing them can be overcome through an assessment that matches workplace glove needs with the appropriate hand protection product. Basically, the right glove it out there. You just need to find it.
The best way to find it is to focus on the four basic needs:
Glove and Sleeve Fit
Dexterity vs. Safety
Grip
Hand & Arm Comfort
The fit is important because it is the biggest factor in worker comfort. The most important key to the right fit is the right size. This can be determined by measuring the worker's hand.
When it comes to Dexterity vs. Safety, it used to be that you had to make a choice – one or the other. A glove that allowed you to move but sacrificed safety, or a glove that properly protected your hand, but limited your movement to the point where your fingers felt frozen inside. Today, that's no longer an issue. Advancements in technology have given rise to a new breed of protective gloves that feature the best of both worlds. Thanks to engineered yarn, today's gloves are thinner than ever before while at the same time achieving higher and higher cut-resistance ratings.
Grip has been one of the key targets of glove manufacturer research in the past decade, particularly oily and wet grip. The result of this research is dozens of different types of work glove grips that are specifically designed for any number of different working conditions and job tasks. For example, some coatings provide maximum grip while others have a grip-and-release characteristic, while others are geared toward oily work, and so on and so forth. This ought to ease your workers' minds about grip problems. Outfit them with the right grip, and your compliance problems will be solved.
Finally, hand and arm comfort are important to address as well. Many workers feel that their gloves simply make their hands too hot and sweaty, encumbering their work. For this issue, employers should be aware of the many types of work gloves that are manufactured with ventilation holes to solve this very problem. Liner fabric in the gloves can also make a huge difference. Cotton liners can be much cooler than synthetics.  These are just a few solutions to help address reasons why people may resist wearing work gloves.  Call 866-720-6841 for additional solutions.
The biggest point in all of this is: Listen to your employees. If their opinions and feedback are validated, they are more likely to be on board with helping solve the problem. They are the ones doing the work so they ought to be able to tell you what they need. In the end, happy employees make compliant employees, which make safer employees. Visit WorkingPerson.com for all your work glove needs, including high-visibility, cut-resistant, welding gloves and many more from great brands like Mechanix Gloves and Black Stallion Work Gloves.