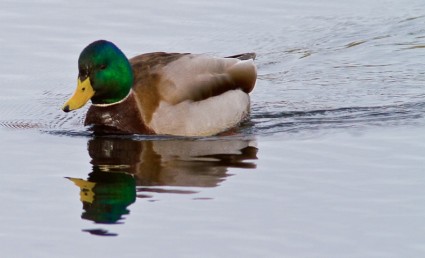 Now, a quick lesson on ducks. Yes, the actual birds – not the hockey team or the fancy amphibious vehicles or the University of Oregon mascot. Actual ducks. The aquatic birds whose amazing feathers are water repellent. A duck's feathers are microscopically structured in such a way that they are have optimal water repellency. It's the way they're made. Which means (and it's pretty amazing once you stop and think about it), for as much time as ducks spend in the water, they are, practically speaking, basically waterproof. Incredible.
So are Carhartt's QuickDuck Woodward jackets and vests (both the waterproof and the incredible part). Each QuickDuck jacket and vest is made with 8.5 ounce, 60% cotton/40% polyester canvas, and each has a durable water repellent (DWR) finish. Because of this unique manufacturing process, each of these jackets are 30% lighter and as durable as sandstone, ounce for ounce! What's even better, the the durable water repellency retains 80% of its usefulness even after 20 washings!
The QuickDuck Woodward Active Jacket, QuickDuck Woodward Traditional Jacket, and QuickDuck Woodward Vest each feature nylon lining that has been quilted to mid-weight polyester insulation. The jackets have this feature in both the body and the sleeves. The vests don't, for obvious reasons. (No sleeves!)
All three of these styles also feature two inside pockets, two large lower-front pockets, and triple-stitched main seams. But all three of these styles also have features that make them unique from each other.
The QuickDuck Woodward Active Jacket has an attached quilt-lined hood with draw strings. It also has a map pocket on the left chest, and a left chest interior pocket with media port. Rib-knit cuffs and waistband complete the package, for a jacket that is as active as you are.
The QuickDuck Woodward Traditional Jacket features a mock-neck collar with zip through. The two chest pockets both have flaps and snap closures (always nice when your stuff doesn't fall out!) and has a left chest interior pocket with media port. This jacket also features inner-sleeve, rib-knit storm cuffs, angled cuff openings, pleated elbows, drop-tail, and split back construction. The pleated bi-swing back enhances your movement. There's a reason traditions last so long. This Traditional Jacket by QuickDuck will too.
Like the Traditional Jacket, the QuickDuck Woodward Vest features the mock-collar with zip-through, as well as a drop tail and left chest pocket with media port. Unlike the Traditional Jacket, it doesn't have sleeves. Which sometimes (OK, many times) is a good thing.
WorkingPerson.com will be carrying the two QuickDuck jackets this fall. We will carry the Traditional Jacket in army green, as well as the Active Jacket in canyon brown. Watch for them this fall at WorkingPerson.com! If you can't wait until then, check out Carhartt's current lineup of coats and jackets offered to you by Working Person's Store.