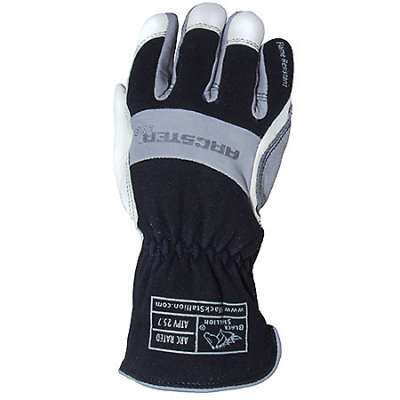 Count on WorkingPerson.com to stock one of the first arc rated supple leather gloves on the market in the Black Stallion Arcster A60 gloves, a Revco Industries product, by a company you recognize for its testing, design, and quality protection.
Anyone with an eye for quality would zero in on the functional details of this glove with is agile, softly tanned, kidskin leather.  This material, as you may well recognize from a simple pair of deerskin gloves, boasts exceptional comfort – and there's no doubt it's true here, too.  ArcsterTM's A60 fire-resistant leather gloves were devised for and boast an amazing level of dexterity for hand protection. These FR gloves have an ATPV of 25.7 cal/cm2 and meet ASTM F1959 standards for flame-resistance.  This ease of movement consideration by Revco Industries in making the ArcsterTM A60 gloves means designers accounted for hand fatigue – and for you – the A60's dexterousness means less stress on finger and hand muscles than stiff leather options of the past.
For a wide variety of work, WorkingPerson.com recognizes the necessity of the Black Stallion Arcster's TM A60 form-fitting glove for the tremendous flexibility and safety it can provide to its customers across a wide variety of work requirements, from inspection to light assembly, from TIG welding to shedding light on any necessary project. The full kidskin palm and fingers are unlined to accomplish tasks with agility and the thumb has its recognized Keystone Thumb, a sueded component with the texture you need for nimbleness and gripping.  The added protection comes from a longer cuff providing additional coverage over wrists between glove and shirt sleeves. A light gathering with reinforced stitching provides a stay-put, but comfortable assuredness.
As expected from Revco Industries, with 30 years or research, development, and manufacture of protective workwear products, the ArcsterTM A60 is also constructed with a flame resistant cotton back, lined with FR insulation, and features Revco's exclusive DragPatch side reinforcement. These particular new Arcster TM A60 work gloves were tested under ASTM F1959 (modified panel).
Revco, which also is the company behind the Black Stallion and BSX brands, cautions that the Arcster A60 is not rated for shock protection and therefore it is not for dielectric use, nor should it be used for prolonged exposure to flame, heat, electrical protection requiring rubber, insulating gloves or for fire entry or firefighting.  Revco Industries and other reputable companies make protective hand covering products for these work needs and WorkingPerson.com offers a range of gloves for your specific needs in these areas.