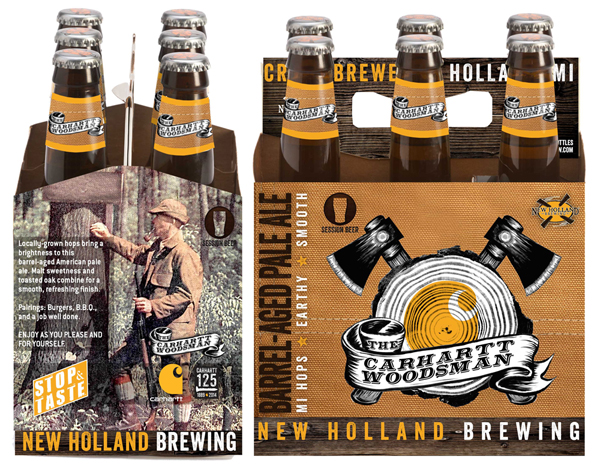 You probably recognize the Carhartt brand because of its quality products, like work boots and coveralls (and loads of other items that you can find at workingperson.com). But once the leaves started to fall during the autumn of 2014, Carhartt released a new, intriguing product to the market : Carhartt Woodsman Barrell-Aged Pale Ale. This beer was created in collaboration with New Holland Brewing Co., located in Michigan. The clothing company is also Michigan-based, so this pairing just made sense.
The pale ale has its own unique signature taste that comes from barrel aging. It's an excellent session-strength beer that was developed as a way of saying "thanks" to all the hardworking men and women in the country. Enjoying flavorful, refreshing Carhartt ale is the perfect way to relax after a long day of work. Malt sweetness offers a smooth finish to the barrel-aged ale, along with toasted oak and Michigan-grown Cascade hops. It has a 4.5% ABV, making it a great session beer. In other words, unlike many craft beers, you can drink more than one or two without getting that too full feeling. You can enjoy it with burgers and BBQ to create a dynamic dinner combo.
This Carhartt beer was inspired by history. The Tin Woodsman from The Wizard of Oz was written in Holland, Michigan, by L. Frank Baum in 1899. At this time, Carhartt was already ten years old.
"The Tin Woodsman was all about heart, which translates to passion and integrity, ideals that course through the veins of our companies and our customers." –Fred Bueltmann, Vice President of Sales & Marketing at New Holland
So the Carhartt Woodsman name was brought into existence.
The Carhartt Woodsman is available in multiple states, especially where New Holland beer is currently sold. The companies are planning on expanding its availability into new states as well. This authentic partnership's barrel-aged beer can be experienced by beer lovers all over the country. It's a way to celebrate Carhartt's 125th anniversary, but is also a reflection of the two companies' shared value of their customers.