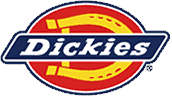 What's worse than a sopping wet work shirt? One that also smells! Believe it or not, there's a way to get rid of all that sweat and odor that has become the "norm" for your work days. Dickies, a reputable brand that manufactures quality workwear and apparel, utilizes Dri-Release Technology in some of their products to keep you dry and comfortable…and smelling good! While you're busting your butt at your job, this technology is hard at work, too.
The Dickies Dri-Release Technology dries four times faster than cotton, which helps your women's or men's shirts stay sweat-free. A jersey knit blend is used (instead of boring old 100% cotton) to give you both durable and moisture-wicking qualities. There's some cotton in the apparel since it's breathable. This is important for your workday serenity. Polyester is included, too. This is tough stuff, and it adds strength to the work clothes. With soft cotton and wrinkle-resistant polyester, Dri-Release workwear gives workers a professional look that includes comfort. The Dri-Release shirts are part of Dickies Performance System Collection.
So you'll stay dry. But what about all that body odor? Dickies has that part taken care of, too. The Dri-Release Technology also involves a Freshguard Odor Neutralizing System, which prevents the growth of bacterial odors. This is a natural odor neutralizer that never washes out. As you perspire and the sweat gets wicked away, the fabric won't discolor. (Nobody likes gross armpits… nobody.) The rugged material in this type of workwear is anti-pill as well, and there's no static cling to worry about. You can layer this type of work clothing for those chilly days, and it's also perfect by itself.
This Dri-Release Technology resists wrinkles, sweat, pilling, and odor. With this clever kind of innovation, you won't have soaking wet, stinky work shirts any longer, and you'll be able to enjoy comfortable, long-lasting Dickies workwear for the many demanding days ahead of you.