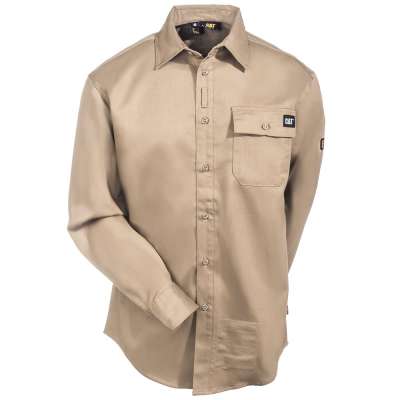 You're at work, doing the same thing you've done 700 times before. Except this time, it's different. There's a spark, then a flame, and before you know it, your arm is on fire. By the time you realize what's happening, the most important thing to do to protect yourself is a decision you made much earlier. Either you properly protected yourself by wearing flame-resistant clothing, or you're wishing you had. Workplace accidents happen. It's a fact, no matter how careful you are. Which is why you need to be properly protected. CAT has a new line of flame-resistant clothing that is comfortable, looks good, and, most importantly, will provide the kind of protection you need, with the kind of CAT quality you have come to recognize in everything CAT makes.
Made from naturally fire-retardant fabrics, or treated with a coating, FR clothes are required workwear for jobs that include the risk of flash fires, electrical arcs, and sparks. These CAT flame-resistant clothes will quickly self-extinguish any flame caused by short-term exposure to flame, sparks, electrical arcs, or flash fires – within seconds, before any burn injuries can be caused on the wearer. Whether you're an electrical lineman, welder, gas & oil worker, firefighter, power plant worker, machinist, factory worker, or many other kinds of careers, wearing FR clothing is a requirement. But telling the difference between quality FR clothing and substandard FR clothing isn't always as clear.
This new line of CAT flame-resistant clothing features twill shirts, zip hooded sweatshirts, pullover hooded sweatshirts, and twill work pants. The twill shirts and pants are made from a cotton/nylon combination, while the sweatshirts are made of a modacrylic/cotton fleece blend. They all provide soft, comfortable fabric that is not abrasive against your skin, which is definitely not always the case when it comes to FR clothing. You'll really notice the difference. Or, maybe a better way of saying that would be, you won't notice you're wearing FR clothing. It'll feel natural. These CAT FR clothes also feature lots of pockets and loops and closures, for holding everything from pens to tools to cell phones to music players. They're really very convenient. The design of each item of CAT clothing is stylish, so you can wear it at work or out on the town without needing to change. The fit is fantastic, with no baggy cloth to get in the way, but not too tight as to cause any discomfort either. Just the perfect design for what you'd expect from clothing made with the kind of quality you're used to from CAT and you can get some of these items at Working Person's Store!