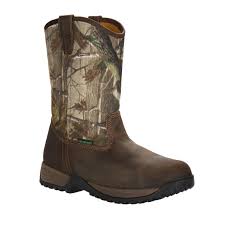 The Riverdale collection for spring 2013 of Georgia Boot has been expanded with pull-on styles. The Georgia Boot's Sport & Trail collection has become one of the most versatile due to this addition. The marketing manager for Georgia Boot, Mr. Jordan Gottke said that when we began developing the Riverdale, we wanted to make a work boot that you could wear to work all day long and then again in the great outdoors after you got home. He also adds that we extended the line after our consumers told us that they wanted a pull-on option because the collection is so lightweight.
The splendid specifications of this expanded Georgia Riverdale Collection include Distressed Leather and Cordura, Georgia Waterproof Construction, Removable CC5 Footbeds, EVA Midsoles, Nylon Shanks and Oil and Slip-resistant Riverdale Outsoles. The Riverdale collection is the name of durability and comfort and its latest styles are no different. The consumers will find a removable polyurethane Comfort Core 5 footbed inside these Georgia Boots. Consumers will also find that the Riverdale collection contains an oil and slip-resistant outsole, which is just perfect for any workplace. Remember to keep an eye out for these styles to come into the market in Spring of 2013. Specific styles for these wellington boots includes G4513, G4518 and G4713.
Georgia boot has a history of over 75 years, as a leader in the work footwear industry. This company is based in Nelsonville, Ohio, and it is striving to make the customers satisfied with its quality work and outdoor footwear. It is a manufacturing as well as a marketing company and making available a wide collection of products in nearly 3000 retail and catalog outlets. They also make their presence known through their involvement and sponsorship of various events and activities, such as their partnership with Clint BowyerRacing Team. Georgia Boot is a sub-division of Rocky Brands, which is a publicly traded company on NASDAQ under the symbol: RCKY.
The expanded Riverdale collection offers oxford, six-inch and eight-inch options for men and for women six-inch option is available. Moreover, the two 11-inch styles are also available in brown or Realtree AP accented options, whereas, a steel toe is optional in these brown boots. The suggested retail prices of these boots are $134.99 and 139.99. Do not miss this opportunity to get your own pair, visit WorkingPerson.com and buy this expanded Georgia Riverdale collection once it becomes available.