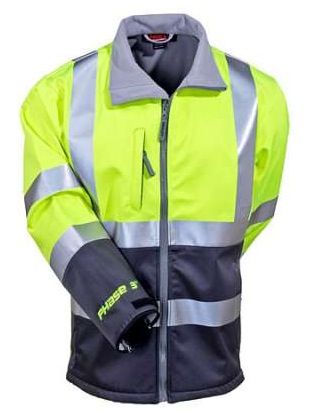 No matter the precipitation or wind – spring, summer, or fall – Tingley's Phase 3 High-Visibility Soft Shell Jacket (J25022) could be the most versatile outer wear for work that you could own. Water resistant, windproof, and with high visibility fluorescent yellow-green color for day-time, it includes 2-inch reflective silver tape strips on arms, mid-section, and shoulders for dusk and night-time outdoor work safety. The Phase 3 jacket uses a techno-competent-stretch-fabric with high shoulder design for complete freedom of movement during all your required tasks.  And it meets ANSI 107 Class 3 compliance.
Besides the obvious safety construction with the high visibility color and reflection, sporting this Tingley Phase 3's soft-shell jacket you will be dry and warm from the attached fleece inner layer (and you know working long outdoors in whatever elements are there that layering is the key warmth).  The hi-vis Tingley jacket's multi-layer protection in a single layer provides superior breathability – to ASTM E96 — with its top layer and insulating fleece.  At 5.5 oz. in material weight, it is 39 milliliters thick.  And who doesn't appreciate the advantages of freedom of movement that come with a little stretch in fabrics – especially when you most need to both move and be safe?  Wearing high-visibility clothing can enhance the mobility of any work demand you might have – working on power lines, cutting trees, climbing in and out of and driving construction vehicles — the athletic design and performance are adaptable to all kinds of athletic-like endeavors you could imagine your job necessitates.
Critical thinking and usage went into all the design features of this multi-layer protective high-visibility softshell jacket that can also be zipped into the Icon (J24122) outer shell as well.  Zippered cording around waist at back cinches out cool winds.  A right outside zippered security pocket stores keys and other valuables, like cell phone and debit card.  And for cold hands or other storage options, there are the hand-warmer pockets with zip closures. The longer back on the hi-vis jacket provides coverage from rain, while the Velcro sleeves can tighten around gloves.  The extra coloring of grey reflective striping is in all the right places – on cuffs and part way up sleeves and on the lower front of the jacket – it's been well-thought out to conceal dirt in the very places where jackets and hard work attract it the most!  And it can double for athletic endeavors when it's not in use for day-to-day work needs!  Get your own Tingley jacket or browse more high-visibility workwear at WorkingPerson.com.