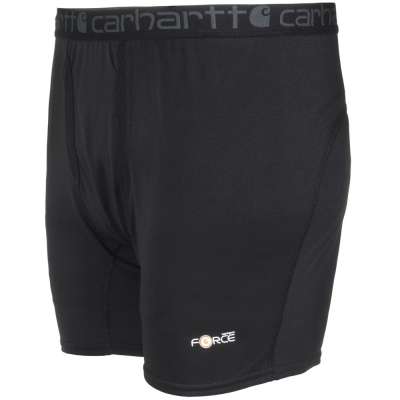 Your men's underwear bunch up, retain moisture like a sponge, and are generally uncomfortable. Why settle for discomfort? Carhartt Base Force boxers were built to give you all day comfort. They fit better, they're closer to your body than loose-fitting boxers, and they're more lightweight than other men's underwear. Sounds pretty appealing, right? Base Force is a line of clothing from Carhartt and features a special design, as it utilizes FastDry technology for the ultimate sweat-wicking. Many men suffer from sweating a lot, but your underwear shouldn't soak up the perspiration and keep it with you all day.
There are two styles of underwear from Carhartt that can give you the features listed above – and more. The 101612 Base Force boxer briefs are great for everyday wear, and they're also nice for those quick workouts at the gym. These are available in black and shade grey. Along with sweat-wicking, they're anti-odor, too. The fabric used in them has been carefully designed to provide you with the greatest comfort possible. You'll stay dry and odor-free all day long! With a 4.5-ounce, 95% polyester and 5% spandex lightweight knit, you'll be able to move and bend without wondering when your Carhartt boxers will start riding up. They stay in place, so you can avoid those awkward underwear-adjusting moments in front of your co-workers. Rugged Flex technology allows you to have freedom of movement – nobody likes being restricted, especially by their underpants. Their fit is more supportive as it rests close to your body. A fly opening and gusset at the inseam gives you significant comfort and easy movement, and the elastic waistband provides flexibility as well. When you're wearing these men's boxer briefs, you'll have the comfort you deserve.
The Carhartt 101611 men's boxers are very similar to the 101612 style, as they include the FastDry and Rugged Flex technology, too. The difference is in the way they fit; they take on a more traditional boxer fit that also includes a fly opening. They're just as comfortable, and they're available in the same colors. Check out Working Person's Store to find these Base Force boxers! With sweat-wicking, anti-odor, and flexibility integrations, you'll have less undergarment problems and more time to focus on your work!
Check out more Carhartt Force here!