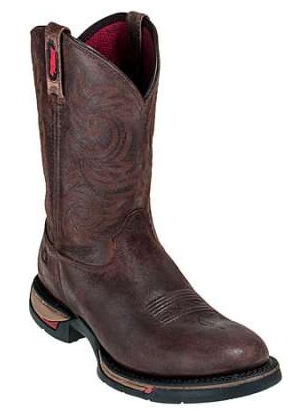 Leather is the preferred shoe upper material to make work boots and work shoes. The following qualities make it one of the best components for work boot and work shoe manufacturing:
Breathability: Pores in leather allow fresh air to circulate inside the shoes.
Moisture absorbency: Leather absorbs moisture away from the foot and out of the shoe.
Customization: Leather will assume the shape of the wearer's feet, providing individualized fit. This quality maximizes comfort and minimizes foot disorders.
Durability: Leather resists tearing and puncturing.
The most commonly used leathers to make footwear are:
Side Leather: Side leather is the most versatile leather used. It gets the name because the hides are normally split down the back into two sides. Patterns can be imprinted, creating embossed leather. It can also be tumbled and crushed to become soft and drapeable. When side leather is impregnated with oils, it is sometimes called wax hide or waxy leather.
Calfskin: This leather is from the young cows or calves. It has a fine grain and is soft and pliable, It also has the ability to withstand hard wear and combines elegant luxury with practicality.
Kidskin: The skin of goats is lightweight, yet strong and resilient.
Exotic Leathers: Alligator, lizard, snake skin or ostrich are common exotic leathers tanned from the hides and skins of these reptiles and birds.
Pigskin: The skin of pigs or hogs is normally used as sueded or brushed leather. It is also used for shoe linings.
Nubuck: This leather finish is created by buffing the outer surface of the leather to produce a very fine nap.
Patent Leather: This finish is produced by coating the surface of the leather with a film or urethane resin to give a high gloss.
Suede Leather: This finish is made by buffing the flesh or underside of the skin (kid, calf, pig or side leather).
Manmade materials and fabrics are also used to make shoe uppers. The primary families of man-made imitation leathers are vinyl and urethane. Among the benefits of using manmade materials are generally lower materials cost, good looks and easy maintenance. However, they have two primary disadvantages:
Manmade materials do not absorb and pass off foot moisture as well as leather.
They lack memory retention and return to their original shape after being worn so you don't get that molded feeling that you do from leather work boots and leather work shoes.
Various materials are used to make the soles of shoes depending on the properties needed by the manufacturer. These include durability, traction or insulation. The sole may also need to be oil-resistant, slip-resistant, cushioned or modified for medical reasons. Leather soles have limited use and are found primarily on higher-priced dress shoes.  Speaking from experience, they can be very slippery!
There are other materials used in shoemaking that are known by their brand names. These are commonly materials of advanced technology and serve such functions as water proofing, insulation and lightweight strength. The manufacturers of these materials readily provide extensive information on their function and use. Some of the materials know by brand name are:
Vibram
Thinsulate
Cordura
Cambrelle
Choose the perfect features for your boot selection with the work boot finder located on WorkingPerson.com.