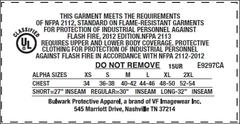 Fire resistant labeling is a clothing industry standard; but "buyer beware" because labeling information can be misleading, especially if you require the NFPA 2112 Standard for your flame-resistant garments and workwear.  Subtle wording by manufacturers can look like claims that do not actually live up to the FR Standard…the old adage is one to heed.  In order to comply with NFPA mandates, Bulwark FR Apparel, the company that knows people aren't fireproof, assures its labels  — and its industrial flame resistant workwear – both certifiably meet the strict third party requirements.
Any variation from the perfect wording means you could be compromised with your industrial flame-resistant workwear performing in a just-in-case event. The label that meets the NFPA 2112 Standard reads: "This flame-resistant garment meets the requirements of NFPA 2112 Standard on the Flame-Resistant garments for the protection of industrial personnel against flash fire." Anything else, like those listing numbers that look official but aren't, could mean your work clothing composition won't protect you as intended.  For quick and easy identification of FR that meets the NFPA requirements, Bulwark garments certified by Underwriters Laboratories also is marked with an NFPA 2112 icon.
Popular new items that fall into the approved, certified, fire-resistant workwear category by Bulwark, which offers the largest selection of FR garments in the industry and Working Person stocks, run the gamut from jeans and khakis to bib overalls and button-down and polo shirts to lab and overcoats.  A few highlights meeting the NFPA 2012 Standard include Bulwark's SMW4HV, a high visibility, neon-yellow colored, FR work shirt with front and back reflective strips that is just right for your outer layer as warm weather has you peeling off that FR jacket.  If your company's policy is to wear long sleeves no matter what the season, the SML2NV Henley shirt is both flame-resistant and provides those essential qualities of moisture-wicking and breathability, keeping you safe and comfortable in any work situation.
Bottoms that carry the up to date NFPA requirements and the easy to identify icon (so you know for sure you are safe as possible on the job) are Bulwark's Loose Fit Stone-Washed Jean (PEJ6SW), with its non-uniform, street look styling that mirrors day off comfort, and Bulwark's FR Pre-Washed Denim Dungaree (PEJ8DW) that provides essential comfort and 6-pocket styling to store plenty of tools and personal items.
Of course, these and many other Standard meeting FR garments are available at WorkingPerson.com – and, if you have questions about flame resistant workwear, customer service personnel on our workplace team are here to answer them.