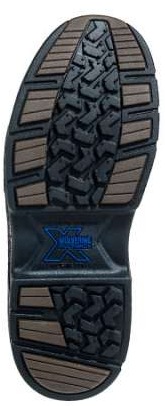 The soles of your work boots is a very important component that also decides your safety at workplace, especially at the work sites where there is a chance of slip or electric hazard. Now in the market, you can find a wide variety of outsoles, constructed by employing a number of slip-resistant, protective and durable materials. Every work boots industry is giving preference to work and workplace needs of workers and thus utilizing some specific types of materials in the making of soles. Therefore, it is very necessary for you to understand the options in order to make a wise choice for yourself. Here you go with valuable information on outsoles construction.
Rubber Outsole:
This is related to the bottom of the boot, lets understand its overall function and the materials. It is very important for you to know that rubber is the most common component of outsole and it is typically made to function as an abrasion, oil and slip resistant. If you are working in manufacturing and construction settings then it can work best for you. Vibram is one of a kind and fine rubber, which facilitates efficient performance and can be a good choice for worksites with rugged terrains. Vibram provides maximum grip on wet and dry surfaces equally. Now days, many manufacturers are employing their own proprietary rubbers and making their outsoles more dynamic by adding more safety features.
TPU Outsole:
These outsoles are constructed with Thermo Poly Urethane and are normally longwearing as these are resistant to any splitting.  You can get many benefits from TUP outsoles used on safety footwear, as these are highly chemical, oil and abrasion resistant and very tough in their design. Wearing a work boot with a TPU outsole construction is an experience of great comfort, because as compared to other rubber soles these are lightweight.
EVA Midsole:
A midsole of any boot is always constructed in a way to make the grip stable and lightweight. Ethylene Vinyl Acetate midsole is a lightweight and flexible foamy material, which appropriately cushions the foot and give a stable grip. Moreover, EVA midsole do not make the wearer weighed-down instead it keeps the wearer relax and comfortable even in long hours standing jobs.
Many footwear manufacturers are employing innovative construction techniques in order to provide the wearers with an improved and more elegant experience of comfort and durability. Some of those innovative constructions are given below to keep you aware of innovative trends in footwear constructions.
Cement construction:
It is a type of boot's sole, which is cemented directly to the upper and is very lightweight and flexible but is susceptible to disorganization in due course. If you have boots with cement construction then you should know that such boots cannot be re-soled.
Goodyear Welt Construction:
Such type of construction for safety footwear is very durable and is not prone to any disorganization overtime, because its upper and inner soles are stitched together leather welt. This welt construction provides the boot with longevity, as it can be re-soled whenever you want!
Industry innovations:
Safety footwear manufacturers are continuously being challenged to come up with more innovation in the construction of footwear. Even many innovations are being added to most of the brands that employ latest and most wanted welt construction just to give a full experience of flexibility and durability to the wearer. One such footwear brand is KEEN Utility, who recently has come up with a new welt construction, which is a hybrid of Goodyear Welt and Cemented construction. This innovation has excellent features of an extra protection against de-lamination and any damage to stitching of the boot. You see how this serves a great purpose especially to welders and other hard working employees who most often bend and flex their feet to carry the job properly.
We hope all this information has made you more aware of sole and sole construction and now you can decide well which one to choose. Now you can buy innovative safety footwear with great ease by just visiting Working Person's Store and just placing your online order.