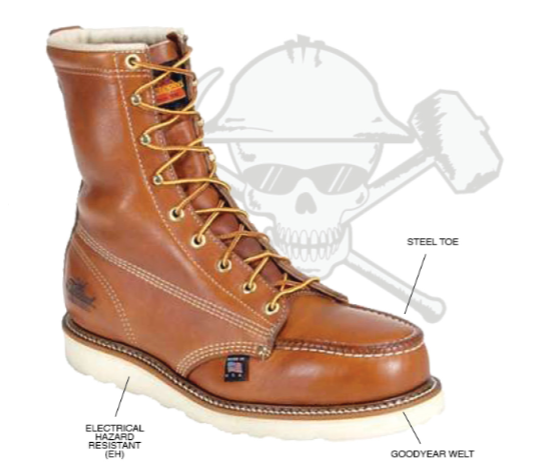 Your work is tough, but choosing your footwear shouldn't be. If you've ever had a difficult time navigating footwear terminology, you're not alone. Different types of construction, safety features and even toe protection might have you wondering what kind of work shoes you really need to invest in for your line of work. Make sure you make the right choice by learning some of the most common work boot terms.
Toe Protection
– Steel toe boots are the most common type of protection. Boots with steel toe caps safeguards electricians, construction, manufacturers and anyone who works in environments prone to falling objects.

– Composite toe caps are lighter than steel toe caps–by about 30%. They don't contain any form of metal but use a composite material to protect the toe. These boots are best for people who go through metal detectors on a regular basis like security personnel or airport employees. The non-metallic nature of these boots will let you zip through detectors without setting off any alarms. The composite material does not conduct cold or heat like steel so may be a better option if you work in extreme temperatures.

– An aluminum or alloy safety toe is also lighter than steel toe caps, but give your toes more space to breathe than steel. On the flipside, aluminum toe cap boots can be a little more expensive than steel-toe boots and can also set off metal detectors.
Safety Standards
Your work boots include information on the label that state the safety standards that they meet. The American Society for Testing and Materials (ASTM) sets the standards and testing procedures for safety footwear. The first line of the label lists the standard that was applied when testing those boots. Other terms you will see include:

I/75: Impact resistance (I) and its rating (75, 50 or 30 lbs) for the toe area

C/75: Compression resistance (C) and its rating (75, 50 or 30 lbs) for the toe area

Mt/75: Metatarsal guard and its rating (75 foot-pounds)

EH: Electrical hazard resistance

SD: Static Dissipative properties

PR: Puncture resistance properties of the bottom of the footwear



Construction
How your boots are put together impact how they move with and support you. In the Goodyear welt construction, a ribbon of leather or rubber is stitched to the boot upper, insole, and lining in one piece; the outsole is stitched to the bottom of the welt. If durability is a top priority for you, these boots are a good option. They don't provide as much flexibility as some of your other options, however.
In direct attach construction, the outsole of the boot is bonded directly to the sole which gives it extra flexibility and comfort.

In cement construction, the outsole/midsole unit of the boot is bonded to the upper with a high-strength adhesive. This process helps cut weight and provides a narrower profile for the boot. These boots are known for their lighter weight flexibility.
Finding the right pair of boots is an investment in yourself. Choosing the pair that's right for the demands of your job can help safeguard you from pain and injury. Visit WorkingPersonsStore.com and view our selection from top brands like Wolverine, Chippewa and more.