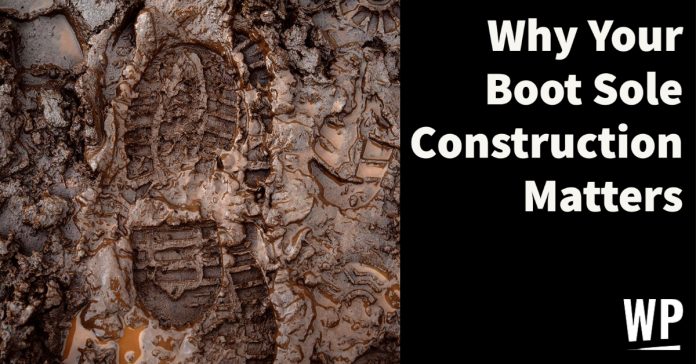 A busy job site is no place for a talking shoe – but if your sole unexpectedly detaches from your boot's upper and starts flapping in the breeze, that's exactly what you'll have. If you're on your feet all day, you know just how important it is to have rugged work boots that are safe, comfortable, and meet the needs of your environment. A big part of what makes your footwear right – or not – for your job is how they're built.
So how do boot companies build their footwear? There are four main types of boot sole construction, and each provides different support for your feet and can help you decide what's right for you. Goodyear Welt, cement, vulcanized, and Opanka construction are four common techniques that offer varying benefits for wearers. We'll go over each type so you can learn which kind is best for your line of work.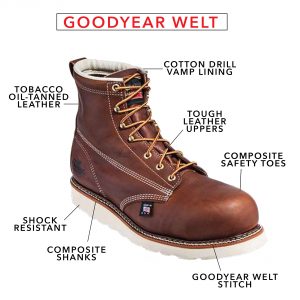 Goodyear Welt
A Goodyear Welt is a special strip of leather or other material. In the Goodyear Welt construction, the strip is stitched to the upper of the work boot – or the part that covers your foot – as well as the insole. Then, the outsole is stitched to the bottom of the welt.
Many consider Goodyear Welt to be the "gold standard" of shoe construction. A major benefit of this construction type is its longevity, as it also allows for multiple sole replacements. This can extend the life of your work footwear, saving you both time and money in the long run. The extra stitching pattern makes them more water-resistant, too.
Cement
Cement construction is one of the most common methods of attaching the sole of a shoe. With this approach, the upper and the sole are attached with an adhesive, and no welting is used. This technique creates durable boots that are flexible and lightweight. It's also one of the most economical ways to create footwear so the price is typically less when this type of construction is utilized. Once the upper begins to separate from the sole or the sole sustains damage, the shoes will need to be replaced, rather than repaired.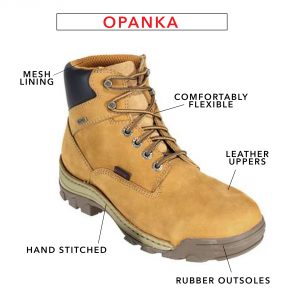 Opanka
With an Opanka construction, the boot uppers, soles, and sock linings are hand sewn together with double-needle stitching. The hand-stitching allows the leather boot to flex and move with your foot. Giving added cushioning, the Opanka construction process enables boots to conform to your foot and rebound right along with your steps.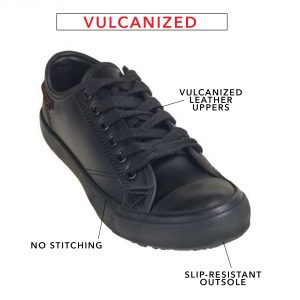 Vulcanized
The Vulcanization technique is used to create durable, waterproof boots. With this impressive construction, the outsole and upper are molded together with a band of soft rubber and then heated in an oven. These vulcanized boots are stable, durable, and resistant to heat. This weather-ready footwear offers long-lasting soles that won't split or wear away easily.
Finding the right work boots is critical to success and comfort on the job site. Invest in boots crafted with your needs in mind.
Are your work boots holding up to the job?