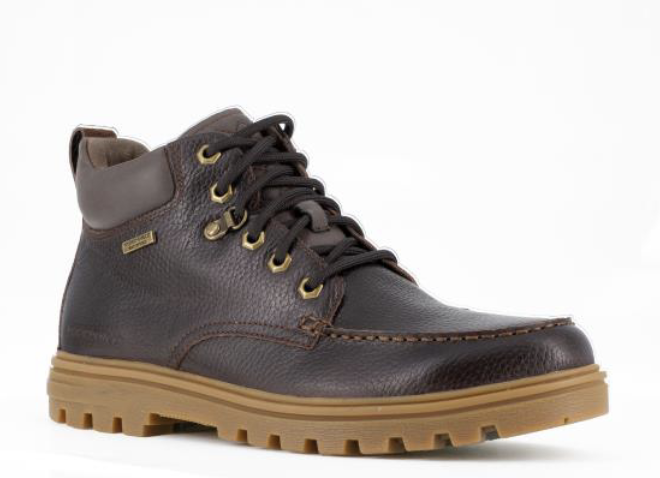 When it comes to rugged footwear that offers a perfect blend of style, durability, and waterproof protection, Rockport is a name that stands out. Among their impressive range of work boots, the Rockport RK6710 style takes the spotlight with its exceptional features.
Let's explore what makes these weather-ready boots so special, with a particular focus on the innovative HYDRO-SHIELD® technology that sets them apart from the competition.
What Makes This Boot So Special?
At first glance, the Rockport RK6710 may appear like your typical work footwear design, but it's so much more. The true magic lies within the HYDRO-SHIELD® waterproof technology incorporated into its construction. Whether you're facing heavy rain, snow, or even puddles on the job site, the RK6710 will ensure your feet stay dry and comfortable throughout the day.

HYDRO-SHIELD® Waterproof Technology:
Rockport Works' HYDRO-SHIELD® technology is the ultimate solution to protect your feet from harsh weather conditions without sacrificing comfort. This advanced feature combines waterproof leather, seam sealing, and a waterproof insole board to prevent the penetration of water. This means you can confidently tackle outdoor challenges, knowing that your feet will remain dry and cozy.

Ideal for Industrial Applications:
You'll love that the Rockport Works RK6710 waterproof work boot goes beyond the typical waterproof capabilities found in ordinary styles. With its HYDRO-SHIELD® protection, this pair provides high-quality waterproofing. This makes it excellent for various industrial applications. Whether you work in construction, landscaping, or any other profession that requires durable and reliable footwear, these waterproof boots have got you covered.
What else does it have to offer?
They also offer more than just waterproof protection. This durable design boasts a slip-resistant full rubber outsole with a 90-degree heel, making sure there's a high coefficient of friction with the walking surface. This special feature significantly improves slip resistance, allowing you to maneuver confidently on a wide variety of terrains.

Comfort and Style:
Rockport understands that functionality should never compromise comfort. The waterproof boots are built with ergonomic considerations in mind, featuring cushioned footbeds that provide ample support and reduce fatigue during long workdays. Additionally, the footwear's stylish design adds a touch of sophistication to your work attire, making them suitable for both professional and casual occasions.
truTECH shock-absorbing heel pads are also included to emphasize comfort. The EVA cushion insoles are removable for versatility, so you can hit the muddy trails knowing you can clean the interiors with ease.
An alloy safety toe cap meets the ASTM F2413, which will give you increased toe protection. Designers also add electrical hazard coverage, as well as abrasion and chemical resistance to keep your feet safe.

Wrap-Up:
With their innovative HYDRO-SHIELD® technology, these Rockport boots ensure your feet stay dry and comfortable in even the harshest weather conditions. Whether you're working in demanding industrial environments or exploring the great outdoors, they'll provide a much-needed balance of functionality and fashion.

Experience the excellence of Rockport boots for yourself and discover a world where style meets durability and comfort. Visit Working Person's Store's official website today to explore our extensive range of footwear options.

About Rockport:
Rockport is a renowned footwear brand that has been delivering quality and style for over four decades. With a commitment to innovation and a focus on creating men's and women's work shoes that marry comfort and fashion, Rockport has become a trusted name among professionals and outdoor enthusiasts alike. From casual sneakers to rugged work boots, Rockport offers a diverse range of footwear solutions designed to meet the needs of modern individuals.