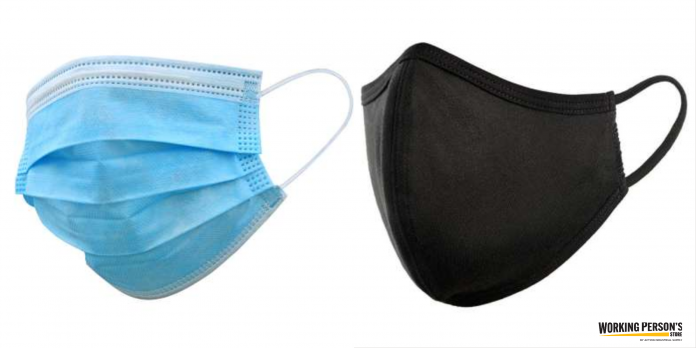 Wearing a safety mask is becoming the norm (thanks, COVID-19!), but how do you decide which one is best for you?

Whether you opt for a reusable safety mask or a disposable one, we have some tips for you on proper wear, washing, and storage. Make your life a little easier by having sanitary masks at the ready at all times.

For Maximum Safety:
Avoid masks with vents or exhalation valves. The purpose of wearing a face covering is to prevent respiratory droplets from reaching another person. Valves and vents allow droplets to escape, which could potentially cause the spread of viruses.
Instead opt for cloth face coverings, including single-use non-surgical options and reusable styles that either tie back or have stretchable ear loops for comfortable wear. You can also choose a neck and face gaiter for a more flexible fit that doubles up as cold-weather gear.

Once you have the ideal face covering in your possession, please note that there's also a right and wrong way to wear a mask.

The right way:
Before you put on your face mask, wash your hands thoroughly with soap and water for at least 20 seconds. Then, place the mask over your nose and find a secure fit around your chin.

If possible, it should have a snug fit on your face. You don't want it to be too tight, and make sure you can breathe easily, too. Utilize ties or ear loops around your ears to keep the design on as you move.

When you're ready to take the mask off once you're safely home, untie or unhook the ear loops – it's important to ONLY handle the ties or loops. Carefully fold the outside corners of the material inward. If you're wearing a reusable cloth mask, put it directly into the washing machine.

Try not to touch your face, eyes, or mouth during this process or immediately after removing it. Wash your hands afterward as an additional precaution.

The wrong way:
Do NOT put the mask on your forehead or move it down onto your neck area. This makes the mask useless in preventing the spread of COVID-19 and other illnesses, and it increases the risk of contamination.

Don't touch the mask when it's on your face; if you accidentally do during use, immediately wash your hands with soap and water, or disinfect with sanitizer if water is not available.

Do not reuse a single-use mask.

Washing reusable masks:
A cloth mask, like the black fabric double layer face mask from Working Person's Store, can be added in with your regular laundry using your typical laundry detergent using the warmest water temperature setting that the fabric of the mask allows.

If you prefer to wash your masks by hand, the CDC recommends 5T of bleach per 1 gallon of room temperature of water as a washing solution (4t per quart of room temperature water for a smaller volume). Be sure your household bleach is able to serve as a disinfectant.

After soaking the mask for 5 minutes, rinse it with cool water and allow it to completely dry before wearing it again.

To dry your face mask you can use the highest heat setting on your dryer or let it air dry in direct sunlight.

A reusable fabric mask is a sustainable option and can cut down on overall costs!

Disposing single-use masks:
Single-use masks are a convenient way to protect yourself with a low upfront cost.

Working Person's Store has non-surgical masks for adults and children, so there are options for anyone who needs one. These masks come in a 3-layer design with adjustable nose pieces and anti-dust and anti-droplet features.

The single strap ear loop is an added bonus allowing it to fit most sizes.

Once you are done using a non-surgical single-use face mask, take it off carefully as directed above and place it responsibly into a plastic grocery bag or resealable plastic sandwich bag, tie it or zip it closed, and place the bag into the garbage can or waste disposal unit.

PPE and hospital masks have an alternate protocol, but for now, this is the best way to dispose of a single-use design. After disposing of the bag, immediately wash your hands.

Storage techniques:
Keep at least a couple of plastic resealable sandwich baggies on hand to store your face masks.

A good tip is to have one as the "clean" baggie for unused single-use masks or freshly washed reusable designs. Have another baggie handy to store any used face masks. This keeps them separate so as not to spread bacteria or viruses that could be living on the outside or interior lining of the fabric.

In between uses during the day, a paper lunch bag is a great way to store a mask. Just be sure to keep it in a dry environment to avoid mildew or mold growth.

While storing, fold the mask to protect the inner cloth that touches your mouth and nose to guard it against any contaminated surfaces.

Slowing the spread of illnesses should always be important. While a face mask can potentially prevent you from getting a virus, it's also important to note that a face covering can keep you from spreading a virus to other people.

Wear a mask in public places, especially if it becomes difficult to maintain 6 feet of separation from others. Children under 2 or anyone who has difficulty breathing should not wear one, per CDC guidelines.