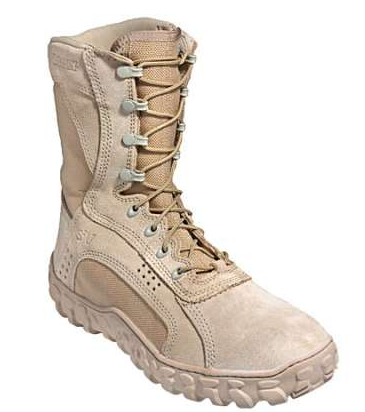 Outdoor enthusiasts will be excited to learn about the recent merger between Rocky S2V and Mountain Shepherd Wilderness Survival School.  Rocky S2V, which is a new product extension targeted at – you guessed it – outdoor enthusiasts, has joined forces with the outdoor survival experts at the Shepherd Wilderness School. This new merger allows Rocky Footwear to utilize the expertise of the wilderness staff for marketing and sales purposes while the school makes use of Rocky's outstanding footwear and apparel.
Kevin Carpenter, marketing manager for Rocky S2V says, "We're excited to announce our partnership with Mountain Shepherd Wilderness Survival School, which is based in Catawba, Va. The experts at Mountain Shepherd are the best in the world at outdoor adventure, and Rocky S2V aims to become the industry leader in adventure gear. We look forward to working with the instructors to ensure that we are providing outstanding gear so that our consumers can reach the pinnacle of adventure with Rocky S2V."
If you're not able to head out to the Shephard Wilderness School to use your Rocky S2V boots you can still get the boots to use on your own turf. Working Person's Store offers them in both tan (101 S2V) and sage green (103 S2V). Best of yet, these durable Rocky military boots fall in our Made in USA category! That means Rocky is not only partnering with Mountain Shepherd Wilderness Survival School, they are partnering with Americans to make these American Made work boots!
This partnership means that Rocky will become the sole sponsor of footwear and apparel for any upcoming survival events and classes at Mountain Shepherd Wilderness Survival School. At the same time, the staff at the wilderness school will appear at media outreach and trade show events to explain the new Rocky S2V concept along with its distinctive features. Rocky has also agreed to collaborate with the school in an annual sweepstake that includes a trip to participate in the Iditarod Great Sled Race with the grand prize being a wilderness survival class.
President of Mountain Shepherd, Reggie Bennett, a former Air Force survival instructor says, "This was a great opportunity for Mountain Shepherd to work with an innovative outdoor brand. Mountain Shepherd instructors have been wearing Rocky boots for over 20 years, and Rocky sent their designers to our school to learn survival skills so they could adapt them to their new S2V boots and apparel. I knew right away this was the company we wanted to be associated with. It's really exciting to see an outdoor company use the latest and best technologies in their gear, and we're all looking forward putting Rocky S2V to the test."
Rocky Brands Inc. is a leader in premium footwear and outdoor apparel. Under the Rocky Brand are also others that include Durango and Georgia Boot, which are the same premium footwear and apparel products you will find when shopping Working Person's Store.