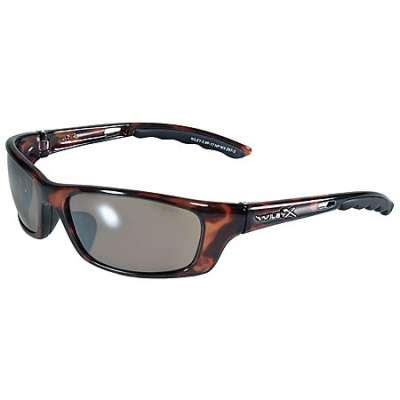 When you're cruising around town on a bright summer day (in your sports car, duh), you're probably wearing sunglasses. If you're not, you definitely should be. We have sunglasses that don't JUST protect your eyes from the sun's harmful rays (UVA and UVB) – they also guard your eyeballs from other hazards. From wind- to impact-resistance, these safety sunglasses can be worn during work and leisure time. Staying safe never looked so good.
Here are just some of the many safety sunglasses available at Working Person's Store:
One style of Pyramex sunglasses features ice blue lenses, and they're designed to reduce glare. These trusty lenses also filter out 99% of the sun's harmful rays, and they exceed the ANSI Z87.1-2003 requirements for high impacts. They're lightweight and have a precision fit – and they're affordable, so you'll be guarding your eyes for a great price.
Ever wanted to have red lenses? These Radians glasses have them, and they're great for enhanced contrast. If you're doing a lot of detailed reading outdoors, these are the perfect option for you. The durable lenses are also scratch-resistant, and you'll get 99% UVA and UVB protection as well.
Reinforcer sunglasses from DeWalt feature lenses that are made out of polycarbonate, which is an impact-resistant material. The black lenses are distortion-free, so you won't have to strain to see. Along with a crisp view, they also provide you with bright light reduction and 99.9% UV protection.
Crossfire makes safety glasses, like these Mirror Lens sunglasses, that give you sporty frames in addition to safety features. These are foam-lined for comfort, and only 16% of outdoor lights can get through the tough lenses. Your eyes will have UVA and UVB coverage, along with an ANSI approval rating for impact safety.
If you're looking for safety eyewear that shows off your style a little more, Edge camouflage sunglasses should do the trick. You can add these to your collection of camo clothing and let everyone know that hunting is your thing. These feature interchangeable lenses (they come with 3 pairs of lenses), and you can swap them in and out as needed. One pair is smoke grey and polarized, which makes them perfect for all types of water activities. Another pair is yellow for low light situations, and the third is clear and anti-reflective.
Wiley X Climate Control sunglasses have a top down ventilation system that allows for natural air flow. This will keep the lenses free of fog. For added protection, the Wiley X glasses also have a nifty, removable facial cavity that you can use to seal your eyes completely from the outside – this gives your eyes extra protection against wind and debris. Your eyes will also have complete (100%) protection against the sun's rays, and the lenses are shatter-resistant.
Flying bugs and debris can quickly ruin anyone's day, so the Gunmetal safety glasses from Harley Davidson have your eyes covered. (These are not intended for use while riding a motorcycle.) Your eyes will be guarded against impacts, and the sun's harmful rays will have a tough time trying to come through the brown lenses.
You'll have unrestricted vision with Carhartt's Ironside sunglasses. These have bronze lenses to give your eyes contrast in low lighting, and they're also anti-fog and impact-resistant. You'll have 99% UVA and UVB sun ray shielding, too. These are great for on and off the job site due to how lightweight they are, as well as their safety features.
Protecting yourself doesn't have to LOOK like you're trying to protect yourself. When you're wearing safety sunglasses, nobody but you will know the difference. Cruise on in style.