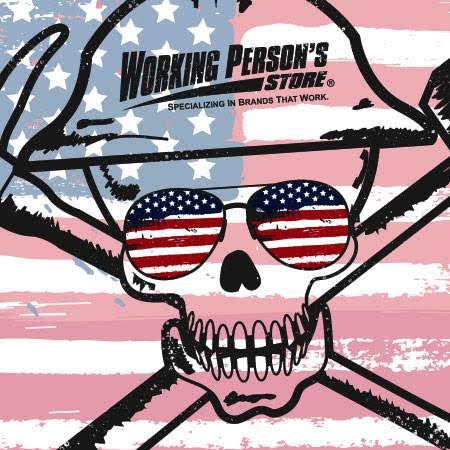 America…the land of the free, home of the brave – the place where quality products are made! Whether it's the 4th of July or the middle of December, choosing American-made products and USA styles is a great way to show your loyalty to this great country. Here are just some of our favorite USA-made products and fun American-themed designs from reliable brands…and there are plenty more where these came from at Working Person's Store.
(Be sure to also subscribe to our emailer newsletter to snag some excellent coupon and discount offers!)
1. Thorogood American Heritage Boots
With work boots like these, you'll forget you ever owned any other kind of footwear. These are crafted in the good ol' United States, as are a large number of Thorogood boots. Skilled American workers develop styles within the American Heritage Wedge Sole Collection, so you can count on them to be long-lasting and of the highest quality.
2. Wigwam Socks
Because this brand cares about you, they knit their socks in Sheboygan, Michigan. You (and your feet) can feel good about wearing these USA-made socks. The company continually strives to become more "green," and they support wool products in America by sourcing their wool almost exclusively from American yarn spinners, who also buy from American wool growers.
What's more American than wearing an American flag bandana? It's tough to be the awesome pattern, but this Occunomix gear can also keep you cool!
The unique MiraCool cooling system helps to reduce the cause of heat stress. Once the polymer crystals inside the cotton neck bandana are activated, you'll have cooling relief for days at a time. Just soak it in cold water for about 30 minutes, and those polymer crystals will plump right up to give you much-needed cooling relief.
Celebration Wrap-Up
So once the smoke from fireworks has filled the air, you can finally kick back and relax. You can toss on an Occunomix American flag bandana, take off your Thorogood boots and Wigwam socks, and head for the couch after the long day. The USA truly is something to celebrate.
---