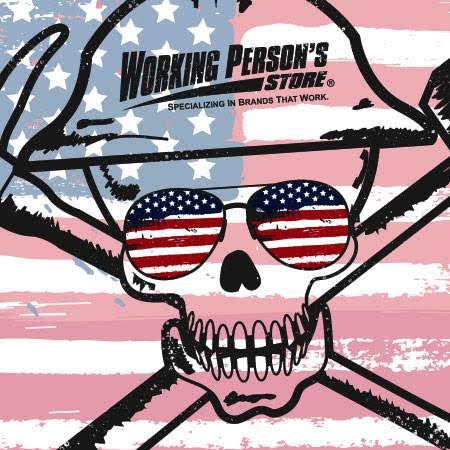 America…the land of the free, home of the brave – the place where quality products are made! Whether it's the 4th of July or the middle of December, choosing American-made products is a great way to show your loyalty to this great country. Here are just some of our favorite USA-made products from reliable brands…there are plenty more where these came from at Working Person's Store.
(Be sure to also check out our 4th of July Sale to snag some excellent deals!)
1. Thorogood American Heritage Boots
With work boots like these, you'll forget you ever owned any other kind of footwear. These are crafted in the good ol' United States, as are a large number of Thorogood boots. Skilled American workers develop styles within the American Heritage Wedge Sole Collection, so you can count on them to be long-lasting and of the highest quality.
2. Working Person's Store Shirts
These are flame-resistant, which is helpful when you're working around fire hazards…and let's not forget to mention all of those fireworks you'll be lighting on the Fourth. These durable FR shirts are made in America, and they're brought to you by yours truly, Working Person's Store, which is a brand you can trust. The brand also has work boots and leather belts available, and these are also American-made.
3. Wigwam Socks
Because this brand cares about you, they knit their socks in Sheboygan, Michigan. You (and your feet) can feel good about wearing these USA-made socks. The company continually strives to become more "green," and they support wool products in America by sourcing their wool almost exclusively from American yarn spinners, who also buy from American wool growers.
4. Filson
Every effort is made by Filson to ensure its products are American-made. Many of their items are made in Seattle, and they partner with other American producers as often as possible. Filson develops USA-made clothing, like men's pants and wool vests, as well as accessories (computer and duffle bags, tri-fold wallets, and heck…they even make stainless steel flasks!)
5. Carhartt Jackets
What's more American than wearing a Carhartt jacket that's made in the United States? Besides sitting around a campfire after hours of chopping wood and baling hay, we can't think of much else that surpasses it.
So once the smoke from fireworks has filled the air, you can finally kick back and relax. Whether you throw on a Carhartt jacket over your Working Person's Store shirt and use a Filson flask to toast your friends or take off your Thorogood boots and Wigwam socks and head for the couch after the long day, knowing you're supporting the USA truly is something to celebrate.