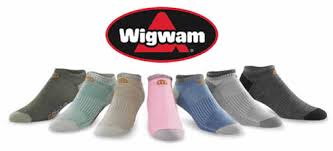 Here's a company that turns 110 years old next year – longer than most people will ever live. A LOT of socks have been produced by them since 1905. They're the company that sponsors grassroots sports events, such as Wisconsin Off-Road Series (WORS) mountain bike racing. Involved with local community outreach projects and charitable organizations, Wigwam, the Sheboygan, Wisconsin-based sock maker, sure knows how to support local businesses to positively impact people right here in America. They've been manufacturing in the United States for nearly 110 years, with 100% of their line produced on American soil. Somehow, they're able to support their workforce and community efficiently with fast turnaround times. Because of their success and commitment to domestic wool producers and workers, they have no intentions of changing their business model.
The U.S. economy benefits from companies like Wigwam. They buy exclusively from American yarn spinners, who also buy from American wool growers. Supporting domestic spinners of natural and manmade fibers and yarn, the Performance Sock Company focuses on high quality that's available in the United States. Not only does Wigwam buy all their wool from U.S. ranchers, but they also purchase all of the necessary packaging and printed materials from within America. When you think about what all that entails – inks, stickers, bags, etc. – Wigwam has thought about every last detail. Keeping their manufactured products in the USA has helped them become successful and reputable, so they're going to stick to their roots.
To celebrate its 110-year mark, Wigwam is planning a four-month initiative to specifically promote its "Made in the USA" story, along with the stories of American workers. They'll be recognizing 110 individuals who've influenced the outdoor industry in a bold, positive way throughout the decades. They're partnering with GearJunkie.com and will have online voting. This kicks off in mid-November, so check it out! It doesn't just take powerhouse companies to make society prosperous – it's more about the hardworking people who have helped create it into what it is today, with every tireless hour on the job.
When people think about USA-made products, sometimes they consider the fact that those prices might be higher than if the products were imported. While this may be all-too-true in most of today's cases, Wigwam works hard to stay extremely competitive in its product pricing. With their state-of-the-art manufacturing facility and a formal continuous improvement program in place, Wigwam makes sure the production process runs as efficiently as possible without sacrificing their service and quality levels.
The only major downside for having all American-made products actually falls on the scarcity of domestic yarn suppliers. As other textile manufacturers migrate overseas, a lot of their own yarn suppliers go with them. So the textile industry in America is limited. Despite this dilemma, Wigwam stays true to its values and buys all their yarns domestically. "Made in the USA" is on every package, every product, both in print and online, and in their social media efforts. In recent years, there has been a resurgence of interest in domestically-made goods, so Wigwam socks and other USA-made products are gaining some ground with retailers and consumers.
There's a certain warm, fuzzy feeling (and not just from wearing Wigwam socks from Working Person's Store) that you get from purchasing American-made items. You're supporting your country, along with local businesses and community members. It's slowly becoming a valued part of our lifestyle here in the USA, so thriving companies, like Wigwam, give us hope that it's a successful choice.