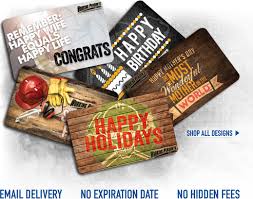 Once you've passed out all that Halloween candy (or eaten it all yourself), it's time to start thinking about Christmas shopping. Oh, how you dread the crowded malls and the bustling, pushy shoppers. If only you could avoid the insanity! And what you wouldn't give to have an invisible cloak so you could hide from all those pesky salespeople…they're just so dang talented at making you buy items you don't even need. (Purchase a food processor when you already have one? Of course!)
Why not go for gift cards this holiday season?
At Working Person's Store, we've got the simple solution to your overwhelming problem. Forget the Christmas chaos and give a gift that lets your recipients pick out their own presents. You'll be able to de-stress, enjoy some hot cocoa in peace, and they'll feel special scouring for their personally-chosen present.
Why can't you have this relaxing opportunity all year long? Well, we have some exciting news for you. From Easter to Mother's Day, Father's Day to Congratulations gift cards – you'll find the perfect present at Working Person's Store, and you won't even have to pick it out. Your brother, dad, co-workers, and friends will all be grateful to choose their own gifts right from our website. They know what they want more than you do, so why not grant them with this great honor of ordering their own gifts? Simply hand them a gift card, and let them do the work!
Is your uncle approaching retirement? You'll want to give him our "Goodbye Tension, Hello Pension" retirement gift card. He can take it upon himself to order whatever he needs for his new hobbies – he'll have lots of free time soon to do so, so don't feel bad! He'll love you for it. Birthdays happen all the time, too…it's nearly impossible to keep up with them all, and so is getting yourself to the store and staring at products, wondering what in the world your loved one actually needs. Take some pressure off yourself. Instead of presenting your son with a weird-looking dress shirt that he'll kindly thank you for but never wear, supply him with a Working Person's Store gift card. "It's Your Birthday – Kick Off Your Boots and Celebrate" on the front of a gift card says a whole lot more than a randomly selected item from the discount bin.
Show those you love just how much you love them. Avoiding the hectic shopping experience is a perk for you, but furnishing your family and friends with Working Person's Store gift cards really does show you care. Let them choose what they'd like, and during their online shopping experience, they'll know you took the time to think about their needs and wants. And who knows, maybe you'll be hanging up Christmas decorations with a little more holiday cheer this year.