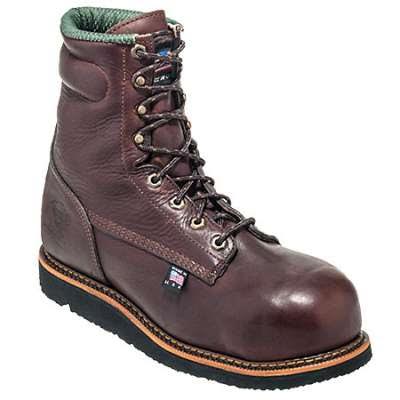 You know we are the store that specializes in brands that work, but did you know we have our own Working Person's Store boots, too? And we stick to our commitment to providing you with the best work products possible with these work boots – they're loaded with special features to keep your feet protected. To top it all off, they're union-made in the USA.
Here are features in these American-made boots:
– Internal, non-metallic met guards
– Slip-resistance
– Oil-resistance
– Abrasion-resistance
– 8-inch height
– Padded collars
– Electrical hazard rated
– Composite toe coverage
– Dri-Lex® lining with moisture-wicking
These safety toe boots are 8 inches tall, so you'll have quality coverage surrounding your feet. Since you want your toes to go uncrushed when you're at work, these brown boots have internal met guards, as well as composite toes. The met guards shield the more delicate bones in your feet, while the composite toe caps protect your toes from harsh impacts and compressions that can happen on the job site (from rolling and falling objects, for example).
The met guards are made from Poron®, which makes them soft and flexible, but they'll harden on impact, guarding your feet when they need it the most. The composite toes are lighter than steel, and they'll provide you with just as much protection. They can withstand up to 75 lbs. of impact and compression, and they're compliant with ASTM F2413-05 standards and will make passing through metal detectors a breeze.
For added safety, these work boots are electrical hazard rated as well, which means they can withstand up to 18,000 volts at 60Hz for 1 minute without leakage.
The rugged soles offer oil- and slip-resistance to help you stay on your feet, so they're actually multi-tasking.
You'll have plenty of coverage on the outsides, and the interiors of the USA-made boots also have some great benefits. The Dri-Lex® lining has moisture-wicking capabilities. Those long, hot work days make your feet sweat, so this soft lining works hard to wick that perspiration away from your skin to keep you comfortable. Padded collars at the tops of the durable 8-inch leather uppers provide cushioning against your lower calf muscles for added comfort.
We know you work hard, so we work hard to specialize in brands that work for you, including our very own. Visit Working Person's Store to learn more about our other products!