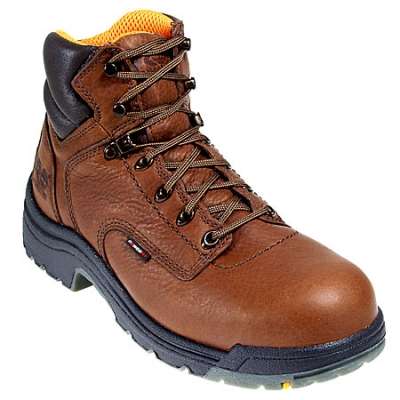 Every now and then a product comes along that simply demands that the fullness of the limelight to be shone upon it. And this, dear reader, is one of those times.
Many consider the Titan PRO Men's Work Boot to be the best all-round Timberland boot. And it's back!
Firstly, the Titan Pro range from Timberland is aimed squarely at the working person, out in the field, toiling on the sites, and generally getting stuck in. And the range is designed around fulfilling the requirements; that means the last thing you'll be thinking about is lugging around sodden, uncomfortable work boots.
They're basically an all-rounder, but a heck of a lot better. Lightweight, durable, and they give you the all-round protection you'd expect from a top of the range boot. But it's the details that really make it stand out because these Timberland boots are seriously comfortable, with a whole load of safety thrown in too.
So before we break it down, let's cover some of the basics. We're talking here about a boot that's been around for 30 years + in one form or another, so everything on them is top notch and has been honed, through years of ongoing development and a design ethos that weaves the worker's feedback into every stitch.
As we said, they're lightweight and comfortable, they're made from full grain leather that's been waterproofed in a way that makes them easier to break-in, while retaining their ability to repel the elements. And the polyurethane mid-soles give you proper longer-lasting cushioning.
So that's for starters, but let's look at some of the more detailed bits of tech on these boots:
Powerfit Comfort System – it's a lot to do with the design of the boot, meaning that the shape is fitted around your foot better. Rather than a big old shapeless boot, what you're getting here is years of knowing how to build a shoe that the working man can wear all day and will actually enjoy wearing.
30-Day Comfort Guarantee – for us this is a biggy! Timberland is so confident you'll be happy with these boots after 30 days, that if you're not happy, they'll refund you fully – no questions asked. A great reassurance for anyone looking for great waterproof working boots.
Increased Sole Thickness (Rugged Titan Out-sole) – Timberland are really keen to push the fact that these soles are built to last. They'll last longer, will keep you on your feet in a tight and slippery spot, and because they've realigned the lugs to flex where your foot moves, they're really flexible too. And the lug surface is bigger, for even better flex than before.
Ooh! One more thing on the sole, that might not seem massive at first glance – they've linked all the under foot channels up, so once the muck and grime gets stuck in, it'll pop out easier. It means you won't be getting half the building site in your van, or worse, in the hall!
Mesh Lining with Antimicrobial Treatment – mesh is great at getting air to the feet, and in this boot in means drier, fresher feet for longer and no nasty whiffs of your hard working feet either.
Titan Safety Toe – they've got a lightweight safety toe inside and are also available with a soft toe and a composite one too. And these boots are also engineered to protect you from electrical hazards!
These are a really great men's work boot and one we're proud to carry. And really, when an update on an all-time classic comes around  it demands our attention.Great stitching, great technological touches, and really one of those products that keeps coming back around for a reason. Grab a pair today at Working Person's Store.