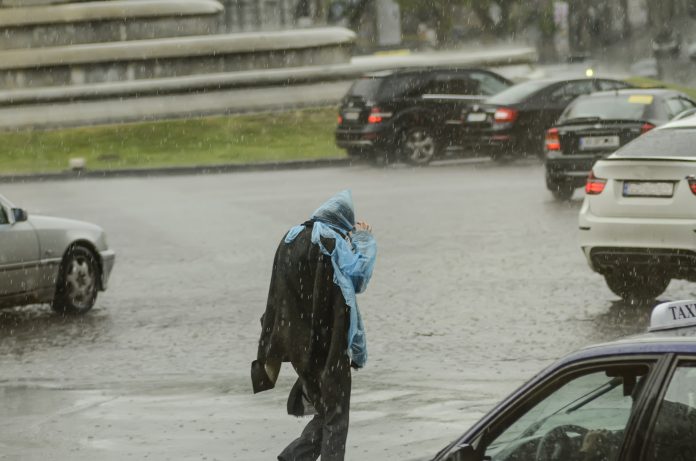 Old man winter is finally giving way to spring, and it's time to make sure you are ready with rain gear that will keep you dry when the skies turn wet and dark. Whether you need something to stow away for that surprise shower or regularly spend long, wet, chilly days and nights exposed to the elements, Working Person's Store has gear that will have you singing in the rain.
Take a look at our top five rain gear picks. We're sure you'll find a jacket just right for your needs.
Radians: SJ12 3ZMS Hi-viz, waterproof protection plus quilted warmth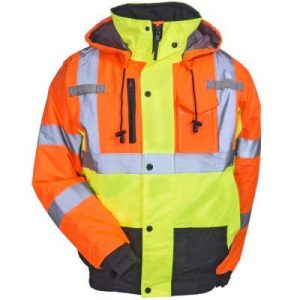 This versatile bomber-style jacket delivers waterproof protection plus high visibility, and it will keep you warm, too. It meets ANSI-ISEA Class 3 visibility standards with multiple colors and 2-inch reflective tape. The shell is made from polyurethane-coated 300-denier oxford polyester, a versatile fabric that is lightweight, durable, and breathable. The polyurethane coating provides waterproof protection for a shell that is comfortable, durable, and weatherproof.
And when those unpredictable spring temps drop, a 60-gram quilted liner helps ward off the chill. To round things out, the detachable hood and elastic waistband and cuffs fend off the worst Mother Nature throws at you.
Tingley: J24172 YLW Hi-viz waterproof protection plus an inner fleece jacket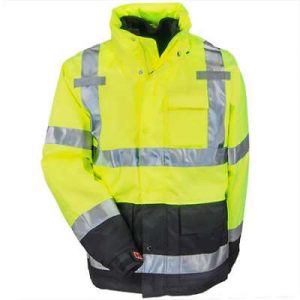 Be ready for any kind of weather all year long, with this Tingley Men's J24172 YLW Waterproof Insulated High-Visibility Hooded Jacket. This versatile two-in-one jacket is ANSI/ISEA 107 Class 3 compliant, and it features a yellow 100% waterproof outer shell plus a removable 300-gram fleece jacket. The outer layer features a full-vented cape back and overhead-design shoulders for freedom of movement when working overhead, plus a hood, storm fly-front zipper with throat guard, and elastic wristbands to keep the chill at bay. When the rain subsides, remove the waterproof shell and wear just the fleece inner jacket.
Tingley: J24122 YLW Lightweight, waterproof protection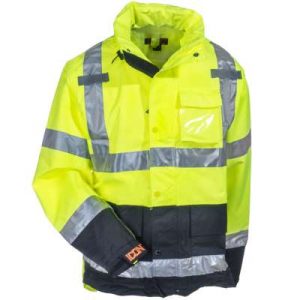 For waterproof protection without added weight, we really like the Tingley Men's Yellow-Green High-Visibility J24122 Waterproof Jacket. Keep this polyurethane-on-polyester taffeta-lined jacket handy and throw it on whenever the weather turns wet for lightweight waterproof protection. To help keep out the water and chill, there's a zip-up storm fly front with a throat guard, elastic cuffs with hook and loop take-up straps, and overhead shoulders for freedom of movement. It has 2-inch silver reflective tape on the front, back, and arms and is Class 3 compliant for high-visibility.
Helly Hansen: 70129 Sleek, uncomplicated waterproof protection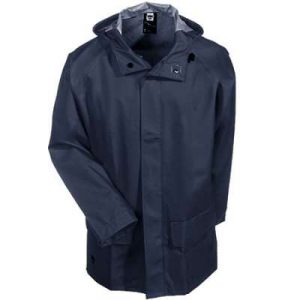 Keep this Helly Hansen Men's Army Green 70129 Waterproof Mandal Rain Jacket close at hand and toss it on whenever you need no-nonsense waterproof protection. This good-looking unlined jacket is made of 100% polyester coated with PVC for waterproof protection, and microwave-welded seams to keep the wet out. It has a storm-flap snap front, a draw-cord hood, and two front pockets. It's got everything you need for basic waterproof protection.
Helly Hansen: 70206 Pull-on waterproof protection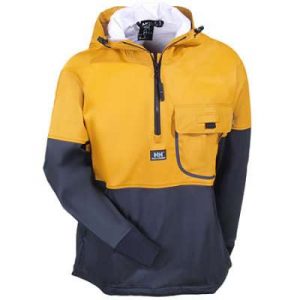 For slip-on ease, check out this Helly Hansen 70206 399 Ochre Roan Anorak Waterproof Jacket. The two-tone outer shell features an ochre (dark yellow) top and charcoal bottom. It's constructed of tough knitted polyester coated with polyurethane for lightweight, durable waterproof protection, and there's a brushed interior for comfort. This stylish jacket not only looks good and keeps you dry, it's tough, tear-resistant, easy to wash, and quick to dry. It has a half-zipper and a roomy hood that will accommodate a helmet, with a drawcord and Velcro adjustment. Just pull it on and go.
Whatever your wet-weather needs, we've got just what you need, right here at WorkingPerson.com.