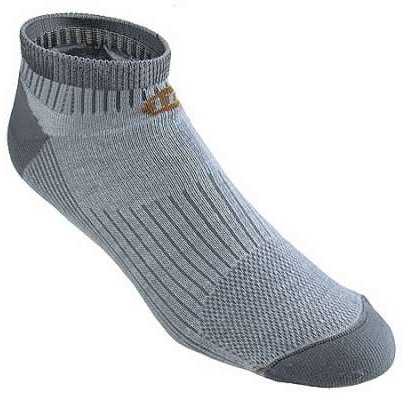 If you spend any amount of time on the trails or the track, you know that having the right footwear means a lot more than just hiking boots or running shoes. Having the right socks is just as important to your comfort and protection.
When anything but the best comfort and protection simply won't do, people have been turning to Wigwam socks for more than a century. And now, Wigwam is introducing a new line of socks for Spring 2012: the Rebel Fusion Trekker. Fancy name for a pair of socks, huh? Well, these socks have certainly earned it. Call it fancy or call it functional, Rebel Fusion Trekkers are the latest innovation.
These socks are lightweight. And they're long-wearing. They're made of stretch nylon, Merino wool and Spandex. If that sounds like a comfortable thing to wear, you're right. They're extremely comfortable. Guess what else is comfortable? Being blister free. Yes, that's right, blister-proof socks. It doesn't get much more awesome (or functional) than that. It all has to do with how Rebel Fusion Trekkers are made.
Wigwam's patented Ultimax Fusion design is revolutionary in the sock industry. The Olefin inner liner is knit right into the sock. Olefin is a moisture-transferring inner liner that pushes sweat out of the inside of the sock, through the breathable outer shell of the sock, all of which results in enhanced evaporation. Moisture being removed from your socks means your feet stay dry. And, more importantly, blister-free.
The toe closure of these Rebel Fusion Trekker socks are seamless, which means they won't cause toe abrasions like regular socks and won't develop holes in the toe like other socks. Which, when it all boils down to it, means they're much more durable and longer-lasting than regular socks. Rebel Fusion Trekker socks also feature a foot-hugging fit so they won't slip on you (isn't it annoying when socks do that?) and a breathable mesh instep so your feet feel fresher.
Aside from how they're made, you can take pride in where these socks are made – in America, along the shores of Lake Michigan at Wigwam's factory in Sheboygan, Wisconsin. Wigwam is a family-owned brand that has been making socks for more than a century, and is proud of its American-made heritage. Working Person's Store is also proud to add these Wigwam socks to the collection of American Made products, as well.
So if that extra mile is on the trail or the track, if it comes on a walk or a run, your feet will thank you for the added comfort and protection that Wigwam's Rebel Fusion Trekkers provide. They've just arrived at workingperson.com. So grab yourself a pair today.