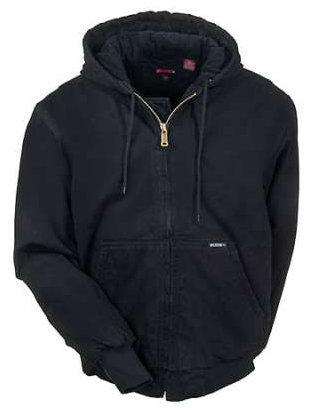 There isn't a person in this country who has been around longer than Wolverine. For more than 125 years — since 1883 — Wolverine has been outfitting the working people of this great country with the great gear they need to complete a solid day's work. And nobody has seen more days of work than Wolverine.
Generation after generation of American workers have relied on Wolverine boots for two things: Comfort and Durability. It is on those two qualities that Wolverine boots have staked their reputation, and it is because of those two qualities that Wolverine has been rewarded with more than a century of customer loyalty.
Wolverine made the work boots that built this great nation's railroads, skyscrapers, highways and homes. And Wolverine has been on the leading edge of innovation the entire time. In 1914, Wolverine set the industry standard with the 1000 Mile Boot. In 1991, Wolverine introduced the first in a long line of modern-day comfort systems with the launch of Wolverine DuraShocks, which is a technology that places compression pads in the heel and foot to absorb shock and return energy to the wearer.
And over all these years, Wolverine is more than a work boot brand. Those two guiding principles of Durability and Comfort are needed in all areas of the working person's wardrobe, not just his or her feet. Wolverine has a full line of workwear and rugged outdoor apparel which, just like its MultiShox work boots, are built only with quality materials and fine craftsmanship. Made to withstand all kinds of challenging environments.
Continuing its tradition of innovation in Comfort and Durability, one of Wolverine's most recent product launches is the Wolverine Finley Cotton Duck Canvas Jacket (W1128600). It's the classic jacket with its traditional, recognizable silhouette, made from durable canvas.
The latest rendition of the Wolverine Cotton Duck Canvas Jacket features enhanced comfort and fit. This was achieved in a unique way… by actually testing its performance in real-like work tasks. By analyzing a person's real on-the-job movements, Wolverine identified areas where the jacket inhibited motion around the arms and back. When wearers moved their arms forward, the sleeves pulled away from the wrists, and then back of the jacket stretched tightly across the back.
So Wolverine, being Wolverine, fixed that. Taking the working person's natural movements into careful consideration, Wolverine redesigned the Cotton Duck Canvas Jacket to provide more natural movement and range of motion. This was accomplished by perfecting a fully-gusseted arm socket. It uses extra folds of fabric that can stretch when needed, but keep the jacket's traditional, at-rest shape when they're not in use. This provides maximum flexibility around the shoulder without adding bulkiness. Incredible.
Wolverine has been both a work clothing and footwear staple for decades. But Wolverine still found ways to make their products, including this Duck Finley Jacket, even better.
The Wolverine Cotton Duck Canvas Jacket also features elastic in the back of the jacket to reduce that tight feeling when moving your arms forward. But Wolverine took it one step further still, by introducing articulated elbows. This layered design around the elbows gives you a full range of motion at the elbow joint.
These new and improved features are included in this new style of the Wolverine jackets — the Finley. They're only the latest in more than 125 years of innovation from Wolverine. Head over to Workingperson.com today, to pick yours out and enjoy the innovation for yourself. For other great features from Wolverine search for their MultiShox and Durashocks footwear, made with exceptional craftsmanship for unbeatable comfort and protection.