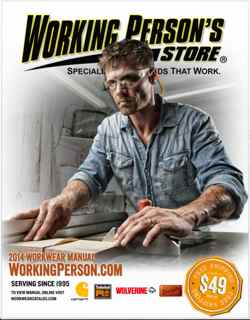 Working Person's Store puts out two catalogs a year. Fall/Winter and Spring/Summer. The WPS catalog features the very best there is to offer in workwear and work footwear for both men and women and now the catalog can be accessed online!
The very same catalog that you get in your mail twice a year is now online, which makes the process even easier. Now you can browse, pick what you want, and then you can instantly order because you're already there. Working Person's Store wants everyone's shopping experience to be as easy and enjoyable as possible.
The catalog has many of the brands that you love and have worn for years, including Carhartt, Helly Hanson, Wolverine, Dr. Martens, and Puma Safety. Whether you are looking for flame-resistant, hi-vis, or just plain workwear, you will find it here. Do you need steel, composite, or alloy toe boots? This catalog has you covered!
With many products made right here in the United States of America, you can show your patriotism when ordering from the WPS catalog. Every occupation from nursing to welding has special workwear needs. Find exactly what you need in the new online Working Person's Store catalog!